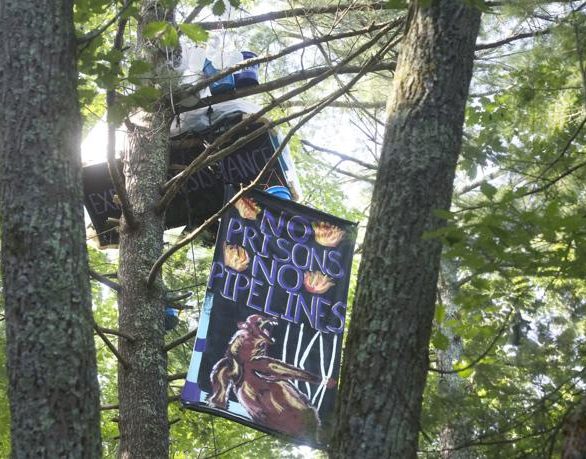 Mountain Valley Pipeline Urges Judge To Remove Tree-sitters
After staying up in the trees for nearly nine months, blockers of the Mountain Valley Pipeline are facing an attempt to bring them down.
Lawyers for the company said in a recent court filing that it needs to have two tree-sitters removed by Friday so workers can finish clearing a path for the massive natural gas pipeline.
On Sept. 5, 2018, two protesters took up residence in a white pine and a chestnut oak that stand in a construction easement for the pipeline in eastern Montgomery County.
While the tree stands have switched occupants a number of times, they remain standing — in what is now the longest active blockade of a pipeline on the East Coast, according to Appalachians Against Pipelines.
In December, lawyers for Mountain Valley asked federal Judge Elizabeth Dillon to issue a preliminary injunction against the tree-sitters, which would allow their removal by U.S. Marshals.
Dillon had yet to rule on the request by 6 p.m. Wednesday.
Mountain Valley said in mid-May it would like to have the tree-sitters removed by the end of the month "in order to avoid additional costs."
Lawyers for the company filed a notice in U.S. District Court in Roanoke, including an affidavit from Jeffrey Klinefelter, director of construction engineering for Mountain Valley.
Klinefelter said that later in the month, Mountain Valley would have a crew of tree-cutters near the protest off Yellow Finch Lane in the Elliston area. The company asked that the two occupied trees be cleared of protesters so they could then be timbered "from an efficiency standpoint," Klinefelter said.
If Mountain Valley is forced to wait, it would cost an additional $22,000, he said.
In a post to its Facebook page Wednesday, Appalachians Against Pipelines said the protesters "have been protecting the hillside in the path of the pipeline for 267 days."
The group urged supporters to visit the protest. "Everyone on site is safer when there are more people there," it said.
Since work on the 303-mile buried pipeline began last year, more than two dozen demonstrators have sat in trees or chained themselves to construction equipment along its route through West Virginia and Southwest Virginia. With the exception of the Yellow Finch tree-sitters, all of them have come down voluntarily or been removed by police.
A Mountain Valley spokeswoman has blamed "obstructionists" for trying to delay work that has received all the state and federal permits needed to complete a project that will deliver needed natural gas to the Mid-Atlantic and Southeastern regions of the country. But two key sets of permits — one for the pipeline to cross more than 1,000 streams and wetlands and the other for it to pass through the Jefferson National Forest — have been suspended due to legal challenges.
Critics say the work is contaminating nearby streams.
In December, the Virginia Department of Environmental Quality filed a lawsuit that accused Mountain Valley of violating erosion and sediment-control measures more than 300 times. The case is still pending.
Located on a steep slope not far from where the pipeline will cross the Roanoke River, the Yellow Finch tree-sit has played out more quietly than other demonstrations. Two protesters are camped out in tree stands about 50 feet off the ground, while supporters on the ground send up food, water and other supplies in plastic buckets suspended by ropes.
The current tree-sitters are maintaining their anonymity. Others have shared their names and stories, including a recent Virginia Tech graduate, a 69-year-old grandfather and rock climber from Albemarle County, and a working-class mother.
Early Wednesday morning, a Mountain Valley crew showed up at the site. One of the workers claimed he was assaulted by the protesters, and Montgomery County sheriff's deputies and Virginia State Police troopers were called to the scene.
The worker later obtained charges against two protesters from the county magistrate's office, according to Capt. Brian Wright of the sheriff's office.
Resource: https://www.roanoke.com/business/mountain-valley-pipeline-urges-judge-to-remove-tree-sitters/article_abccd071-8c1a-549a-b920-6a5cdbce5fe7.html