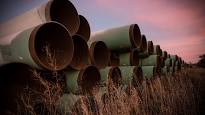 ACLU Watching New North Dakota Pipeline Law 'Very Closely'
As the American Civil Liberties Union challenges a South Dakota law that ratcheted up penalties for pipeline protesters, regional leaders of the ACLU are paying close attention to a similar measure in North Dakota.
In March, South Dakota Gov. Kristi Noem signed legislation that allows the state to sue "riot boosters" for damages, attorney fees and so on — even if the boosters did not participate in the riot themselves or get convicted of a crime. ACLU lawyers sued shortly thereafter, claiming the new law violates the U.S. Constitution and equates peaceful organizing with "encouraging a riot." The lawyers also claim it discourages support of peaceful protests against the Keystone XL pipeline project, which would build a new line down the western half of South Dakota and has drawn the ire of environmental and American Indian activists alike.
Dakota Rural Action v. Noem is set to be heard in a Rapid City, S.D., district court on Wednesday.
ACLU leaders said they're watching how a similar law in North Dakota plays out, but a spokesperson stopped short of saying they are "considering" a similar court challenge.
Senate Bill 2044 was approved 43-4 in the North Dakota Senate and 76-14 in the House before Gov. Doug Burgum signed it into law on April 10. It amends existing state law to make it a felony to damage or tamper with equipment, operations or construction of a critical infrastructure facility, the definition of which includes a "valve site," "pump station" and a "site or location designated or approved for the construction" of such a facility.
The new law also would mean organizations could be fined up to $100,000 for "conspiring" with people who violate it.
"North Dakota's new law builds on a trend of anti-protest legislation that aims to chill protesters from using precisely those tactics that have proven most successful for getting their voices heard," said Heather Smith, executive director of the ACLU of North Dakota. "We'll be watching what happens with North Dakota's new law very closely."
The bill was sponsored by Sen. Janne Myrdal, R-Edinburg, who said it's a response to the 2016 shutoff of a TransCanada pipeline's emergency valve near Walhalla, which is in the legislative district she represents.
Climate Direct Action "valve turner" Michael Foster, of Seattle, was convicted of misdemeanor criminal trespass, felony criminal mischief and conspiracy to commit criminal mischief. Samuel Jessup, of Vermont, was convicted of the latter and misdemeanor conspiracy to commit criminal trespass. Foster shut off the valve while Jessup livestreamed him.
Myrdal characterized actions like theirs as "domestic terrorism."
I understand and agree that registration on or use of this site constitutes agreement to its user agreement and privacy policy.
"I felt, because of that incident here in my district, that we need to tighten those laws," she said. "This is not about demonstrating. This is about damage, intent to damage, destroy critical infrastructure that affects thousands of people."
Foster and Jessup's shutdown caused no injuries or death, Myrdal conceded, but she claimed it cost millions in damages. Pembina County officials, who prosecuted the two activists, did not produce a damage estimate by Tuesday afternoon.
Climate Direct Action has done similar shutdowns elsewhere, including near Clearbook, Minn., in 2016.
"We believe that people have basic civil rights," said Winona LaDuke, longtime environmental activist and executive director of Honor the Earth, which she founded to highlight indigenous struggles for environmental justice. "And water protectors aren't criminals."
Ruth Buffalo, a Mandan, Hidatsa and Arikara Nation member and Fargo Democrat who voted against the measure as it went through the House, said North Dakota needs to have a broader — and meaningful — conversation about pipelines in the state.
SOURCE:
Bismarck Tribune