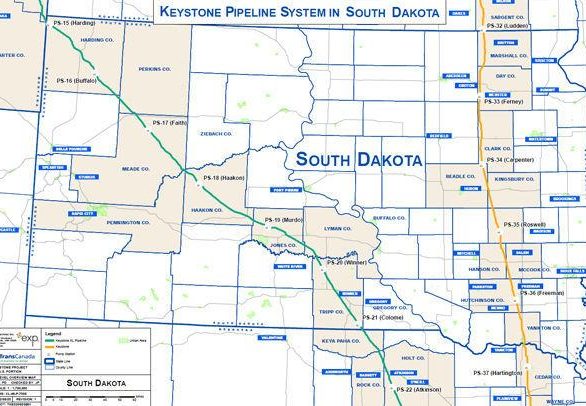 Alleged Keystone XL Trucks Escorted Off Reservation
PIERRE, S.D. — The Cheyenne River Sioux Tribe has alleged that contractors for TC Energy (formerly TransCanada) drove onto reservation land this week, violating a tribal resolution barring vehicles working for the Keystone XL pipeline construction from the reservation.
In a Tuesday news release, the tribe said residents first noticed the vehicles parked in a lot in Eagle Butte, S.D., on Monday evening before notifying tribal leadership. The tribe said its police department responded and identified "the company which hired the vehicles and the purpose of the cargo" before escorting the vehicles off of the reservation eastward on Highway 212.
The tribe did not specify in its release how police knew the vehicles were contracted for Keystone XL work, or the name of the contractors. Photos retweeted by the tribe on Tuesday show a truck being escorted by police with no obvious name or branding.
Sara Rabern, a spokesperson for TC Energy, denied in a written statement that the trucks were affiliated with TC Energy. Asked to elaborate on how the company would be sure, Rabern said TC Energy "currently (does) not have any activity in the region," and that the company "work(s) closely with our crews and contractors on their schedules to ensure their safety and ensuring the safe delivery of our materials."
The Keystone XL proposed route does not cross the federally recognized Cheyenne River Reservation's boundaries.
Cheyenne River Chairman Harold Frazier did not immediately respond to requests for further comment. Tribal police declined to comment without permission to speak to the media from the chairman.
"Any vehicles or personnel working on the Keystone XL pipeline are not welcome on this reservation," Frazier said in Tuesday's release. "This is Sioux Territory, we will not stand for more encroachments and defilement of our land."
The tribe has a resolution requiring that "any and all Keystone XL trucks and escort vehicles that drive onto our reservation be turned around immediately and go back the way they entered the reservation," per the release.
Tony Mangan, a spokesman for South Dakota's Department of Public Safety, said the department was notified of the incident and that no injuries or arrests were reported.