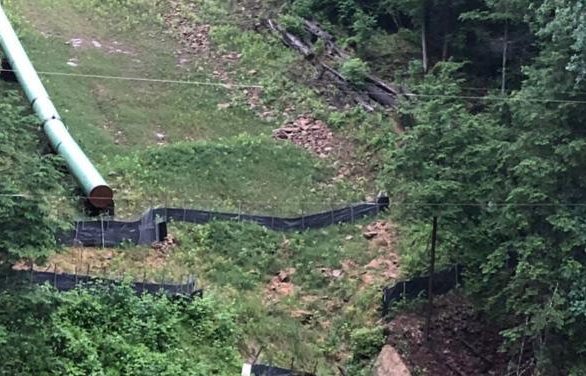 Army Corps of Engineers again pushes back deadline for DEP decision on key water permit for Mountain Valley Pipeline
The U.S. Army Corps of Engineers has again pushed back the deadline for West Virginia environmental regulators to decide on a key water permit application for the Mountain Valley Pipeline.
The state Department of Environmental Protection was supposed to make a decision on whether the water quality impact of constructing the Mountain Valley Pipeline across waterbodies would be too negative to allow by Monday.
But the Corps has given the DEP until Dec. 30 to make that determination.
The Corps said it approved the extension request from the DEP on Nov. 18 after receiving a request from the agency on Nov. 2 to extend the deadline to act on the water quality certification request for the pipeline project to Dec. 30 "due to the lack of final documentation for many key components of the project," Brian Maka, Army Corps of Engineers Huntington District spokesman said in an email Monday.
DEP spokesman Terry Fletcher said in an email Monday the DEP asked for additional time to "thoroughly evaluate and verify all information submitted to date.
"We are reviewing the application for compliance with all applicable rules and regulations," Fletcher said.
Fletcher declined comment when asked about any components that lacked final documentation, citing the agency's pending review of the application under Section 401 of the federal Clean Water Act from Mountain Valley Pipeline LLC, the Canonsburg, Pennsylvania-based joint venture that owns the pipeline.
The Corps already granted the DEP an additional 150 days to make a water quality certification decision in June. The Corps also granted Virginia environmental regulators another 182 days in June, making their decision due Dec. 31.
Maka said Monday the Virginia Department of Environmental Quality had not requested additional time beyond Dec. 31.
Both were originally allotted 120 days to review the water permit request. Virginia regulators submitted its request to extend its review period in March. West Virginia regulators followed suit in April.
The Clean Water Act gives states a maximum of one year to act on a Section 401 certification request, though it does not guarantee a state may take a full year to act on a request.
Pipeline developers have proposed a 125-foot-wide temporary right-of-way to construct the pipeline, and a 50-feet-wide permanent right-of-way to maintain and operate the pipeline once in service. Mountain Valley anticipates the project will temporarily impact more than 21,000 linear feet of streams and 10 acres of wetlands in West Virginia during the construction phase, and permanently impact more than 1,100 linear feet of streams and 2.2 acres of wetlands.
In West Virginia, the proposed project route would consist of 197 miles of pipeline, about 65% of the total pipeline route, and three compressor stations.
The pipeline is slated to run 303 miles from Northern West Virginia to Southern Virginia, crossing Wetzel, Harrison, Doddridge, Lewis, Braxton, Webster, Nicholas, Greenbrier, Fayette, Summers and Monroe counties in the Mountain State.
It would transport up to 2 billion cubic feet per day of natural gas from the Marcellus and Utica shale formations to markets in the mid-Atlantic and Southeastern U.S.
The pipeline already has had adverse impacts on West Virginia's waters. State environmental regulators proposed a consent order earlier this year requiring Mountain Valley to pay a $303,000 fine for violating permits by failing to control erosion and sediment-laden water.
That penalty followed a $266,000 fine from the state in 2019 for similar erosion and water contamination issues.
The Virginia Department of Environmental Quality fined Mountain Valley $2.15 million that same year for water quality violations.
The North Carolina Department of Environmental Quality reissued a denial of a water quality permit for the planned Southgate extension of the project in April.
Pipeline developers have estimated work is more than 90% complete on the now-$6.2 billion project.
But the project originally was scheduled for completion by the end of 2018 at a cost of just $3.5 billion. The project's targeted summer 2022 in-service date is based on receiving all water-crossing approvals and the lifting of a remaining exclusion zone around the Jefferson National Forest by the end of 2021.
Legal challenges from environmentalist groups have stalled the project, including one that prompted Mountain Valley Pipeline LLC to abandon a blanket water permit issued by the Corps of Engineers and seek individual water permits.
Mountain Valley is also seeking a permit that would allow for discharging dredged and fill material into streams and wetlands.
The Corps is reviewing that application under the authority of Section 10 of the federal Rivers and Harbors Act of 1899, and Section 404 of the Clean Water Act.
The U.S. Environmental Protection Agency has defined fill material as including rock, soil, clay, construction debris and materials used to create any structure in waters of the United States, a broad term that includes all interstate waters or waters that could be used by interstate travelers.
There is no deadline for a ruling on a Section 404 permit for the pipeline.