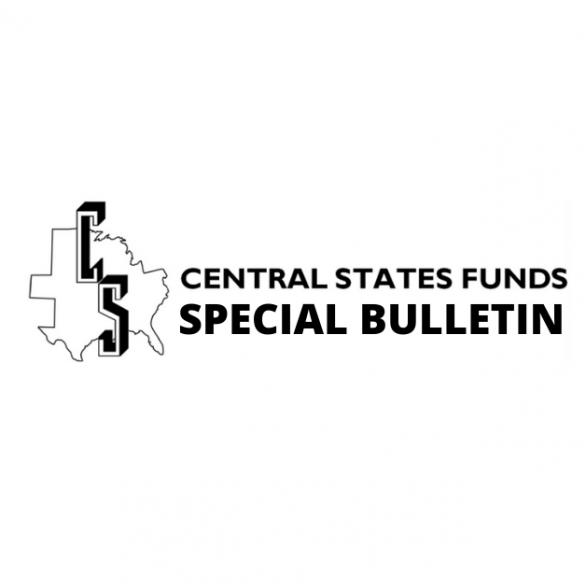 Central States Funds – 2020 Special Bulletin
EMPLOYEE TRUSTEES
CHARLES A. WHOBREY
GEORGE J. WESTLEY
GARY DUNHAM
EMPLOYER TRUSTEES
GARY F. CALDWELL
RONALD DeSTEFANO (Pension Fund Only)
CHRISTOPHER J. LANGAN (Health Fund Only)
ROBERT WHITAKER
EXECUTIVE DIRECTOR THOMAS C. NYHAN
MyTeamCare.org | MyCentralStatesPension.org
2020 SPECIAL BULLETIN – 2020-2 DATE: MARCH 23, 2020
TO:
LOCAL UNIONS IN CENTRAL STATES HEALTH FUND
LOCAL UNIONS IN CENTRAL STATES PENSION FUND
RE: FUND'S OPERATIONS DURING COVID-19
Each day, COVID-19 is having an increased impact on more and more communities and states. In Illinois – where the Fund offices are located, Governor J.B. Pritzker has recently ordered a "Shelter in Place". Because of this order, the Funds have made the difficult decision to temporarily close the office building and continue operations through a "work from home" environment for Fund staff.
Providing quality service to our local unions and members has always been a top priority at the Fund. During this crisis, the Funds will do everything possible to continue to deliver the service our local unions and members deserve. Since the Funds had a tested business continuity plan, we are prepared for this crisis and critical Fund operations will continue. However, we must acknowledge that during this time, there will be some service issues with longer than average hold times and delayed replies to correspondence. We encourage local unions and members to self-service many of their issues through the Fund's websites at MyTeamCare.org or MyCentralStatesPension.org.
Although not an exhaustive list of Fund operations, we want to ensure you that critical processes will continue uninterrupted:
Medical, dental, and vision claims submitted through our network vendors will continue to be processed by the Fund. Although explanation of benefit statements (EOBs) will be mailed by the Fund as resources permit, these EOB statements can also be viewed and downloaded at MyTeamCare.org.
Monthly work history reporting by employers will continue uninterrupted. All employer reports will be processed, and eligibility posted with all our network vendors. Many employers report their work history electronically through our eTad employer program. Local unions can encourage employers who submit paper work history and contribution documents to utilize eTad at Employer.MyTeamCare.org.
COBRA self-payment letters will be mailed, and COBRA payments processed.
Members on short-term disability benefits will continue to receive their weekly checks. New short-term disability claims will continue to be processed when received by the Fund.
While Fund mailroom resources may be reduced, it is important that any short-term disability claims, life insurance claims, or correspondence be submitted through the Message Center at MyTeamCare.org or faxed to the number on the form. Mailed claims and correspondence will take longer to process during this time.
In anticipation of a potential delay in U.S. mail service, pension checks for April mailed to Central States Pension Fund pensioners were put in the mail early and should be received by the pensioner prior to April 1.
Since we don't know what the future will hold, we ask local unions to encourage pensioners who still receive a mailed pension check to enroll in the electronic fund transfer (EFT) program. A retiree can complete the online EFT form by registering at MyCentralStatesPension.org.
Pension applications and correspondence, along with new pension claim approvals will continue to be processed.
The Fund's CustomerCare Center will continue to be operational with reduced staff while we transition all Benefits Specialists to our work from home operations. Because of this, we anticipate longer than average hold times. In addition to the CustomerCare Center and Message Center, local unions can call or email their Field Service Representative for assistance.
During this crisis, please encourage members to utilize our website MyTeamCare.org or MyCentralStatesPension.org. to view their explanation of benefits statements (EOBs), download ID cards, download forms and applications, and send any claim/pension questions through our secure Message Center. Our hearts go out to all those who have been affected. The health of our members has always been our top priority. This is a rapidly evolving situation that we will continue to monitor.
BOARD OF TRUSTEES, CENTRAL STATES, SOUTHEAST AND SOUTHWEST AREAS HEALTH AND WELFARE AND PENSION FUND,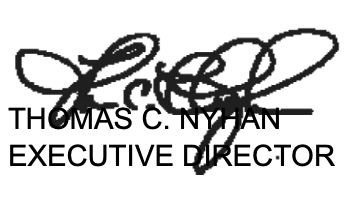 DOWNLOAD COPY OF BULLETIN HERE: SPECIAL BULLETIN 2020-2 FINAL