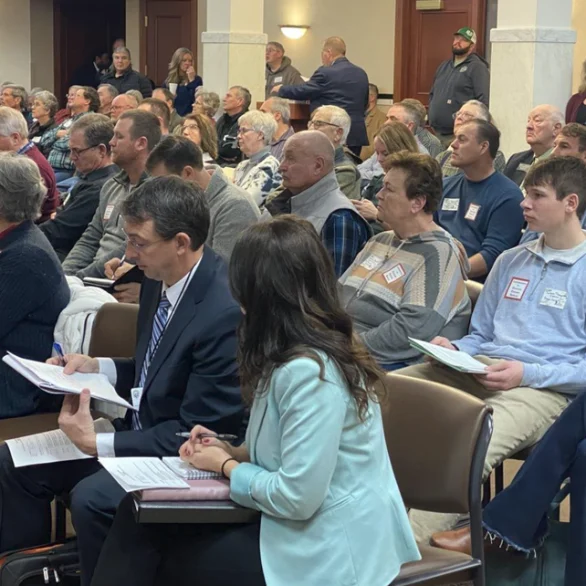 Committee Advances Bill Preventing Eminent Domain For CO2 Pipelines
A bill intended to prevent two proposed carbon pipeline projects from using eminent domain passed a legislative committee on Monday.
The committee considered a total of six bills aimed at giving landowners more power in their fight against the pipeline projects. It was the first step in the legislative process for each of the bills during the ongoing 38-day legislative session at the Capitol in Pierre.
"These bills are coming before you because landowners are concerned about eminent domain," the prime sponsor of three of the bills, Rep. Karla Lems, R-Canton, said. "We want choice, and we want protection."
Current state law says "all pipelines holding themselves out to the general public as engaged in the business of transporting commodities for hire by pipeline" are common carriers. The law also says common carriers may exercise eminent domain, which is a legal process to obtain access rights from landowners who are unwilling to grant them. On an 8-5 vote, the committee approved Lems' bill to exclude carbon pipelines from the definition of a "common carrier."
Some landowners opposed to the projects said carbon pipelines are different from oil, natural gas, or water pipelines, which deliver a product used by the public.
"I never envisioned, in my wildest imagination, that eminent domain could be utilized in this situation," Aberdeen farmer and rancher Craig Schaunaman said.
Another bill that passed 10-3 would require a company with condemning authority to issue its final and best financial offer to landowners at an earlier date. Both bills now move to the full House of Representatives.
The two proposed underground carbon pipelines, Navigator CO2's Heartland Greenway project and another proposal by Summit Carbon Solutions, would capture carbon dioxide emitted from ethanol plants in the Midwest and transport it in liquified form through multi-state pipelines to be sequestered underground in Illinois and North Dakota, respectively.
Ethanol producers can get more money for their products in states with stricter emission standards by shrinking their carbon footprint. Sequestering carbon keeps it out of the atmosphere, where it traps heat and contributes to climate change. Ethanol producers would also benefit from a federal tax credit for sequestered carbon dioxide.
Critics say the pipelines could leak and contaminate groundwater and soil. They also argue the projects would undermine property rights.
Eminent domain is a power reserved to use for public benefit, according to Brian Jorde, an attorney representing landowners against the pipelines.
"And now we have shifted so far from those concepts, unfortunately," Jorde said. He said the carbon pipelines are for private gain and do little, if anything, to benefit the public.
Proponents of the pipelines say they would bring large financial benefits to the ethanol industry and regional economy, and that some of the CO2 would be used to carbonate soft drinks and make products, including dry ice.
Summit Carbon Solutions said it has agreements with 60 percent of the people owning land required for the pipeline in South Dakota. The bills are an attempt to derail the projects, according to Jake Ketzner, a lobbyist for Summit.
"Please do not change the rules in the middle of the game," Ketzner said.
The majority of anti-pipeline bills were rejected on Monday. A bill requiring agreements with 90 percent of landowners prior to state regulators considering a pipeline project died in the committee. So did a bill that would have required companies to include impacted landowners in a pipeline project's siting and condemnation process.
Another bill requiring the establishment of best practices for CO2 pipeline applications prior to any construction also failed, as did a bill requiring certain companies to give a 30-day notice and pay $500 to a landowner prior to entry upon private land to conduct a survey.
Some legislators said those bills were too broad in their potential impact.
"We're singling out one project here to try to create a stumbling block, but the unintended consequences are it's going to apply to a lot of utilities and water projects moving forward," Rep. Roger Chase, R-Huron, said.