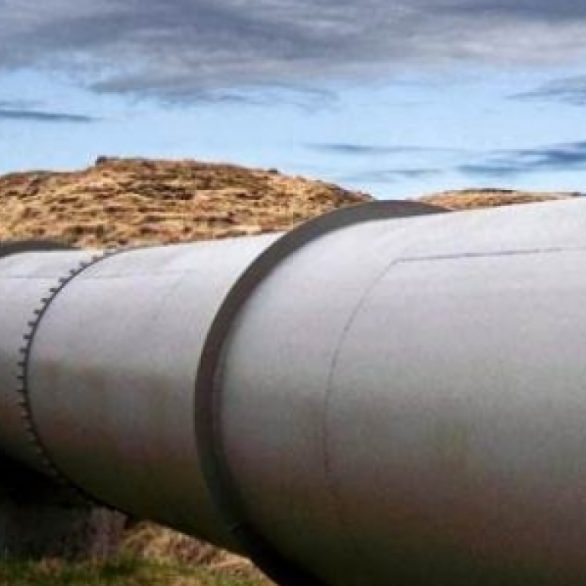 Consumer Energy Alliance Reports Nearly $14B Threatened By Pipeline Delays, Cancellations
A new report by the Consumer Energy Alliance (CEA) found that delayed or canceled pipeline infrastructure projects are risking at least $13.6 billion in economic activity, more than 66,000 jobs, and roughly $280 million a year in state and local tax revenue.
The report, "How Pipelines Can Spur Immediate Post-COVID Economic Recovery," highlights specifically how new energy infrastructure activity could provide relief for struggling families and small businesses as well as create demand in the manufacturing and industrial sector.
The petrochemical sector has sparked more than $300 billion in new U.S. investment, with nearly 70 percent of that economic growth coming back to the United States from overseas markets.
"We'd be foolish to push these immediate injections of private capital aside, because it will slow our economic recovery at the expense of countless families and businesses who are just trying to get back on their feet again," CEA President David Holt said. "These projects have also been proven to provide the best environmental protections because they introduce state-of-the-art technologies to reduce emissions and increase safety where none existed before."
Pipeline infrastructure projects, however, have been long fought by anti-energy interest groups and allied policymakers across the country, with one of the most prominent impacts being felt in the Pennsylvania, New York, and New Jersey region, the CEA report found.
Activism and regulatory intransigence within the three states has helped create some of the nation's highest energy prices across the region, risked more than $3.5 billion in economic activity and more than 17,000 mostly union jobs, and lost nearly $52 million per year in tax revenues over decades. Additionally, the obstructions block immediate environmental improvements by keeping higher-emitting fuels in service.
In Pennsylvania, alone, the pandemic has seen more than 2 million people file for unemployment with the unemployment rate topping out at 15 percent in April. While unemployment dropped to 12.5 percent in June, the state still has the ninth highest rate in the country.
Before the COVID-19 crisis, Pennsylvania's policymakers largely viewed the state's energy resources as an asset to the economy. However, activist opposition and regulatory conflicts from neighboring states continue to threaten pipeline and large infrastructure projects, such as the planned ethylene cracker facility in Western Pennsylvania, which had more than 8,000 workers on site before it had to shut down. While the facility would create the ingredients for a whole host of consumer products, those ingredients are especially critical now for the manufacturing of personal protective equipment. When completed, the project would have been the single largest source of private investment in the state since World War II.
Both New York and New Jersey have actively used their permitting processes to stop pipeline infrastructure originating in Pennsylvania, the report stated.
"This type of policymaking in neighboring states has led to higher energy costs and lost savings for families, seniors and small businesses – especially in eastern Pennsylvania – and denied the state thousands of new jobs and millions in local tax revenue that would help alleviate the current economic pain being felt across so many communities," the CEA report said.
The Northern Access Pipeline, a roughly 100-mile long project originating in Pennsylvania, would bring stable and affordable supplies of natural gas to New York and lower energy costs in New York, the Midwest and Canada. Though it has been blocked by several activist groups and was eventually denied a water quality permit by New York regulators, a Drexel University Economic Study found that the project would strengthen American energy self-sufficiency by creating a pathway northward for natural gas from the Marcellus shale formation.
Another project currently on hold is the Northeast Supply Enhancement Project, a $1 billion investment to boost existing pipeline infrastructure and increase service capacity to meet consumer demand in the northeast as well as parts of New York and Long Island. An analysis by Williams, the natural gas company managing the Northeast Supply Enhancement, found that the project could have saved residential customers 65 percent on their utility bills and up to $2,300 on home heating with the average commercial or industrial consumer saving up to $36,000 a year. The company also found that, if the delays ended, the project could reduce carbon emissions by 200,000 tons per year, which is equivalent to taking 500,000 cars off the road.
The project's permits have been denied by New York and New Jersey regulators, despite the fact that it could have solved the supply constraints in the New York City area and brought the state almost 10 percent of the way to its clean energy goals, according to a study conducted by Rutgers University's Bloustein School of Planning and Public Policy.
"We are disappointed with the decisions of New York and New Jersey to deny the Northeast Supply Enhancement project's permits. While we continue to believe in the fundamentals of this project, we will not refile in New Jersey or New York at this time," Williams said in a statement posted to the project's website in May. "The decision to pause this important infrastructure project is unfortunate for the region as the design and construction would have generated valuable economic activity in Pennsylvania, New Jersey and New York, and would have directly and indirectly supported more than 3,000 jobs during the construction period."