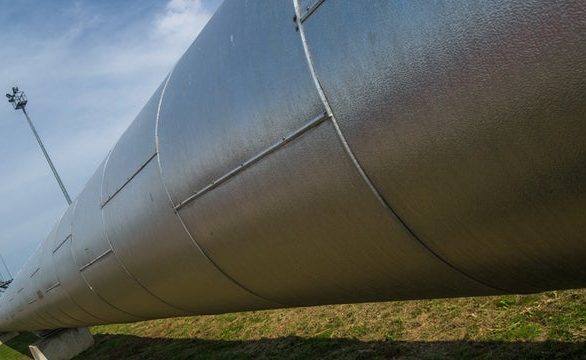 Democrats Call For New Gas Pipeline Moratorium Amid Pandemic
A group of 29 House Democrats is asking the Federal Energy Regulatory Commission (FERC) to stop approving new natural gas pipeline projects and new liquefied natural gas export facilities amid the coronavirus outbreak.
They argued in a Wednesday letter to FERC Chairman Neil Chatterjee that such a moratorium is necessary to make sure the public is included in the process and also to protect the safety of construction crews.
"FERC must issue an immediate moratorium on the approval and construction of new shale-gas pipeline projects and Liquid Natural Gas export facilities to protect the public health, our environment, and the American people's confidence in the integrity of governmental administrative and legal proceedings," they wrote.
The letter was led by Reps. Jamie Raskin (D-Md.), Jim McGovern (D-Mass.) and Ilhan Omar (D-Minn.).
Chatterjee, however, expressed resistance to such a pause, arguing that the country's infrastructure should try to be prepared for a return to normalcy.
"It's imperative that the Commission continue to operate as close to normal as possible so that the industries we regulate are well-positioned to contribute to the nation's economic recovery when we all return to work," he said in a statement to The Hill.
"We at FERC will do everything in our power to make sure our energy systems continue to operate and are there when we call upon them once our economy reopens. To shut our door to working on the nation's critical energy infrastructure would be as irresponsible as it is shortsighted," the chairman added.
FERC regulates interstate transmission of natural gas, oil and electricity as well as natural gas and hydropower projects.
Wednesday's letter follows a decision by FERC earlier this month to relax certain obligations on the companies it regulates due to the virus.
For example, it waived requirements for in-person meetings and notarized documents and authorized the director of its energy policy office to "act on motions for extension of time to file, or requests or petitions for waiver" of certain transaction reports.
The lawmakers wrote that they believe some of FERC's commission "seems to view this national public health catastrophe as an opportunity to further entrench an institutional bias towards the building of natural gas-pipeline projects."
"While these 'regulatory relief' measures undoubtedly make it easier for pipeline companies to continue obtaining approvals and initiating pipeline construction during the crisis, affected landowners and communities face exceedingly difficult odds of even being heard in the Federal Energy Regulatory Commission's (FERC) approval proceedings during this period of crisis," they wrote.
The letter also comes after the recent Senate confirmation and subsequent swearing-in of Trump nominee James Danly to a vacant commission seat.
His nomination was controversial among Democrats because, in a break from tradition, a Democrat was not nominated alongside him to fill a vacant Democratic seat on the five-member commission. Republicans now hold a 3-1 majority.