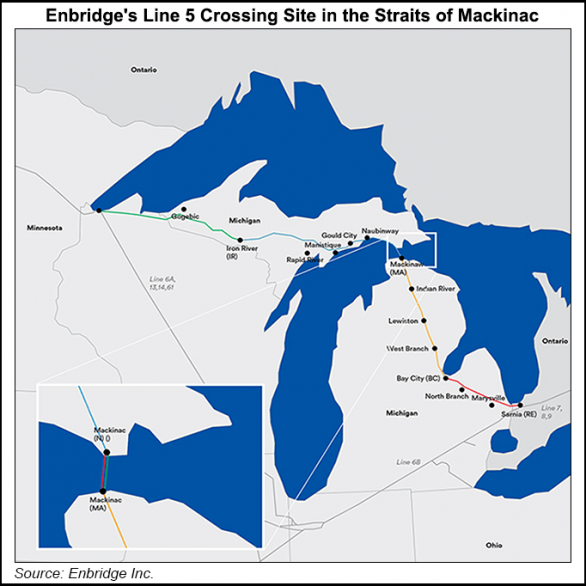 Enbridge Escalates Fight with Michigan to Save Line 5 Oil Conduit
The environmental fight over Enbridge Inc.'s dual-pipe oil Line 5 across Michigan escalated Monday into the first-ever use of a 44-year-old energy traffic treaty between Canada and the United States.
Canadian Foreign Affairs Minister Marc Garneau announced that a formal request has been made to save the 540,000 b/d conduit with a dispute resolution and arbitration process in a 1977 Transit Pipelines Agreement between the two countries.
The treaty "prohibits measures that are intended to impede, divert, redirect or interfere with crude oils or natural gas liquids moving through transit pipelines, such as Line 5, or that would have that effect," said Garneau.
"Today Canada is formally invoking the dispute settlement provision of the 1977 Agreement to ensure its full application," he said Monday. "Canada supports Enbridge's plan to replace the existing pipeline with the proposed Great Lakes tunnel project."
The U.S. State Department had not responded as of early Tuesday regarding the 68-year-old oil conduit. Michigan Gov. Gretchen Whitmer had ordered construction for the four-mile crossing to be shut down in mid-May after revoking the 68-year-old state property easement between Lake Michigan and Lake Huron. However, Enbridge has prevailed in previous court battles.
In response to Enbridge's latest tactic, Whitmer said she was "profoundly disappointed" by the Canadian support for the Enbridge delivery service from Alberta to the U.S. Midwest, Ontario and Quebec. "I will continue to fight to get the pipelines out of the water."
Michigan Attorney General Dana Nessel also said she was "disappointed that the Government of Canada continues to align itself with Enbridge's desire to keep using state-owned lands to pump oil through the heart of the Great Lakes."
Enbridge has attempted to enforce an agreement made to bury Line 5 in a $500 million tunnel since Whitmer and Nessel won a 2018 election on a platform that demanded removal of the pipes.
Garneau requested diplomatic dispute resolution after Michigan withdrew from court-ordered mediation. U.S. District Judge Janet Neff had ordered settlement talks after Whitmer revoked the state property easement for the straits crossing and Nessel sought court enforcement of a pipe eviction notice, setting off a flurry of state and federal lawsuits.
In a September procedural ruling, Neff noted an "apparent breakdown" of the mediation but said both sides still have to seek a settlement. The ruling said "the parties remain under a continuing obligation to engage in good faith to resolve this case."
Enbridge previously said it had "participated in mediation in good faith. We are committed to continuing to seek resolution, whether through mediation or by asserting our rights in the courts if necessary."
The Calgary pipeline and utility conglomerate has said it also supports "a diplomatic solution consistent with the U.S.-Canada Transit Pipelines Treaty, which prohibits Michigan from impeding the operation of Line 5."
Alberta Premier Jason Kenney also weighed in, endorsing Garneau's treaty move.
"The shutdown of a safely operating pipeline could potentially set a dangerous precedent for future infrastructure projects. This cannot be allowed to happen."
Line 5 is a "nonnegotiable…major piece of North America's integrated energy system," added Alberta Energy Minister Sonya Savage. "Thousands of families and businesses on both sides of the border rely on Line 5. It supplies energy to heat homes in Michigan's Upper Peninsula, while also providing neighboring states, Ontario and Quebec with reliable, safe energy."