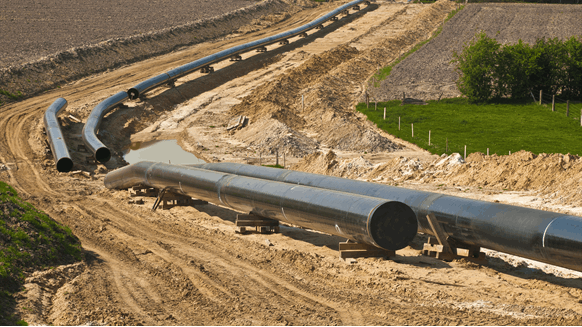 Enbridge Project Clears Regulatory Hurdles
Enbridge Inc.'s replacement and expansion of the Line 3 oil pipeline cleared key regulatory hurdles in Minnesota.
The state's Public Utilities Commission approved a revised environmental impact statement and agreed to reinstate the project's certificate of need on a 3-1 vote on Monday, according to Juli Kellner, a spokeswoman for Calgary-based Enbridge. The commission still must approve the pipeline's route.
Enbridge's expansion of Line 3 is a major project for the Canadian oil industry, which has been hurt by a lack of pipeline capacity. The C$9 billion ($6.8 billion) project would add 370,000 barrels of daily shipping capacity along a roughly 1,000-mile (1,600-kilometer) route from the Alberta oil hub of Hardisty to Superior, Wisconsin.
The project had been delayed by a year because of opposition from indigenous groups and environmentalists, as well as permitting issues. The delay caused Alberta to extend its mandatory oil-output cuts for a year to prevent a glut from forming in the province.
Enbridge's plan hit a snag in June, when Minnesota's Court of Appeals ruled that the project's environmental impact statement was inadequate, saying it didn't address the potential effects of a spill into the Lake Superior watershed. The revised impact statement approved on Monday included study of a potential spill.
The expansion avoided a possible obstacle in September when the Minnesota Supreme Court denied petitions for further review from non-profit groups opposing the project.