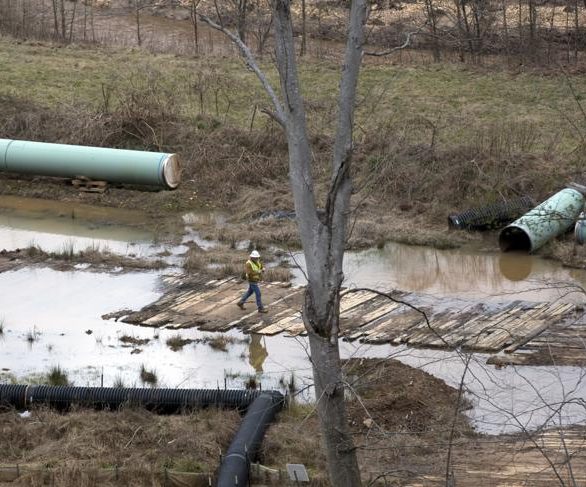 Environmental Problems Continue With Mountain Valley Pipeline, Group Says
Problems with erosion and sedimentation along the construction zone of the Mountain Valley Pipeline have continued, despite a winter slowdown in the work.
Inspections by the Virginia Department of Environmental Quality found repeated violations from Sept. 19 through Dec. 20, 2019, according to an analysis by Wild Virginia, one of the environmental groups opposed to the natural gas pipeline being built through Southwest Virginia.
The group's conservation director, David Sligh, asked in a letter emailed Thursday to DEQ what enforcement actions have been taken, in light of a court order that allows for tougher monitoring and penalties for any repeat violations after Sept. 18.
DEQ director of communications Greg Bilyeu did not address that question directly in an email to The Roanoke Times late Friday, instead explaining in general terms how the agency requires corrective action to address problems found during inspections.
"Corrective action is the first step for compliance and moving items identified by the agency as alleged non-compliance to enforcement is the next step," he wrote.
Bilyeu did not say whether the problems had been fixed. But a Mountain Valley spokeswoman said they had been in most cases.
Since work began on the controversial project two years ago, digging trenches to bury the 42-inch diameter pipe along steep mountain slopes has caused repeated problems with erosion, washing harmful sediment onto nearby properties and into streams and rivers.
"The Mountain Valley Pipeline has been a disaster for the waterbodies along its path and for the people who have borne the brunt of its impacts," Sligh wrote in his letter to DEQ Director David Paylor.
A lawsuit against Mountain Valley brought by DEQ and the State Water Control Board was settled in December, with the company agreeing to pay a $2.15 million fine. A key part of the consent decree, state officials said at the time, was a provision that allowed for enhanced monitoring and tougher penalties should there be violations after Sept. 18.
Wild Virginia reviewed 67 inspection reports from between Sept. 19 and Dec. 20, covering work sites in the six Virginia counties — Giles, Craig, Montgomery, Roanoke, Franklin and Pittsylvania — though which the pipeline will pass on its route from northern West Virginia to Chatham.
Three of the inspections found that Mountain Valley had not installed erosion control devices as required by the state, Sligh wrote in his letter. In another 19, DEQ officials determined that the devices were not property maintained. And in at least eight cases, sediment was washed away from the 125-foot wide construction right of way.
"This behavior prolongs a disgraceful pattern of noncompliance that has been ongoing," wrote Sligh, a former environmental engineer for DEQ.
But according to a Mountain Valley spokeswoman, the company has not been informed by DEQ of any violations serious enough to trigger a penalty.
"It's important to understand that items listed on an inspection report typically identify issues that need to be addressed in a timely manner and do not necessarily constitute violations," Natalie Cox wrote in an email.
When DEQ inspectors find something that needs maintenance or repair, construction crews are given a deadline that can range from one to three days.
All of the issues identified within the pipeline right of way have been corrected, Cox wrote. As for problems beyond the construction zone, Mountain Valley has removed sediment and made other repairs when allowed on the property by the landowner.
"In cases where landowner permission has not been granted, the MVP project team will continue to work with landowners to obtain access in order to repair any off-ROW [right of way] issues," Cox wrote.
In its lawsuit, DEQ had claimed that Mountain Valley violated state regulations meant to curb erosion and sedimentation more than 300 times. The $2.15 million settlement covered violations through Sept. 18.
The company would face "much more significant consequences" for future offenses, according to the state attorney general's office. The consent decree placed Mountain Valley under a court-ordered supervision and compliance plan.
"If any future violations occur, MVP will have to immediately clean up the damage and restore the site at its own expense, and will be subject to an expedited process for imposing significant financial penalties of a predetermined amount," the attorney general's office wrote at the time.
A spokeswoman for the office referred questions Friday to DEQ.
In mid-October, the Federal Energy Regulatory Commission ordered a stop to all construction on the 303-mile pipeline, except for stabilization and erosion-control work, until questions about the project's impact on endangered species can be resolved.
That followed a lawsuit filed in August by Wild Virginia and other environmental groups against the U.S. Fish and Wildlife Service, claiming that clearing trees has damaged the habitat of the Indiana and northern long-eared bats, and that erosion from land-clearing has allowed sediment to clog rivers and streams inhabited by the Roanoke logperch and the candy darter.
FERC and the Fish and Wildlife Service say they are reconsidering 2017 approvals that were challenged by the lawsuit.
Two other federal permits — one for Mountain Valley to pass through the Jefferson National Forest and the other for it to cross more than 1,000 streams and wetlands — were suspended earlier after legal challenges. The company says it plans to regain the permits in time to complete the pipeline by the end of the year.
Since October, Sligh acknowledged, the number of DEQ citations is less than when construction was going full-bore over the summer.
But, he wrote in his letter to Paylor, "Mountain Valley's violations during a time when its sites are mostly dormant are particularly inexcusable."
According to the most recent environmental compliance report filed by FERC, covering the week that ended Jan. 25, recent work on the pipeline has been devoted almost entirely to repair, maintenance and reinforcement of erosion control devices.
Sligh said Friday that DEQ's response to questions about his letter shows "business as usual for DEQ — find dozens of instances where the company failed to follow approved plans but refuse to take real enforcement action."