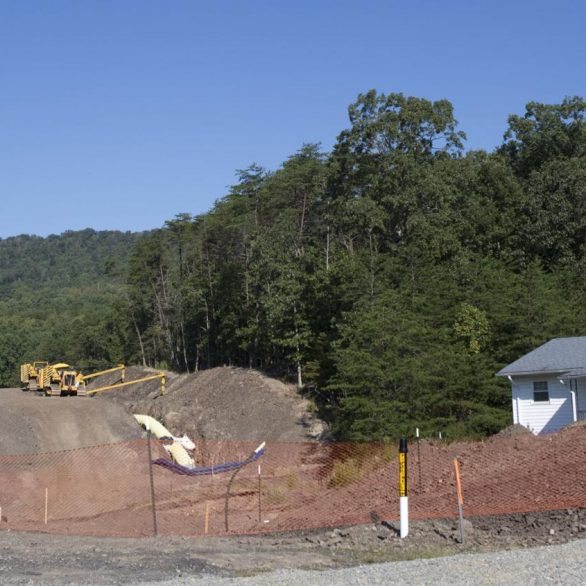 Federal Judge Upholds Ban On Process For Permitting Pipelines, Including Mountain Valley
A federal judge has declined to lift his temporary ban on a permitting process for the crossing of streams and wetlands by oil and natural gas pipelines, including the Mountain Valley Pipeline.
In an order late Monday, Montana U.S. District Court Judge Brian Morris denied the Justice Department's request for a stay pending an appeal of the case.
Morris earlier struck down a streamlined method used by the U.S. Army Corps of Engineers to approve waterbody crossings, ruling that the agency did not properly evaluate the potential harm to endangered species by the Keystone XL pipeline, which will transport crude oil from Canada to Nebraska.
The sweeping ruling prevented other planned pipelines from obtaining a similar permit from the Army Corps until "completion of the consultation process and compliance with all environmental statutes and regulations" — a process expected to take months.
Government lawyers had asked Morris to limit his ruling to the Keystone pipeline.
But in a 38-page opinion, Morris wrote that pipeline developers "possess no inherent right to maximize revenues by using a cheaper, quicker permitting process, particularly when their preferred process does not comply with the ESA [Endangered Species Act.]"
Environmentalists have argued for years that the Army Corps' process, called a Nationwide Permit 12, takes a "blanket approach" that does not adequately assess a pipeline's crossing of each stream or wetland in its path.
"Constructing pipelines through rivers, streams and wetlands without analyzing the impacts on imperiled species is unconscionable, and we will continue to fight to protect vulnerable species, our waters and the climate from such reckless development," Jared Margolis, a senior attorney with the Center for Biological Diversity, said in a statement.
A spokeswoman for Mountain Valley wrote in an email Tuesday that "we will continue to evaluate the potential impacts to the MVP project as new information becomes available."
Natalie Cox added that work on the 303-mile pipeline — currently stalled by Morris' ruling and other legal challenges filed by environmental groups — is still expected to be completed by the end of the year.
But Mountain Valley, a joint venture of five energy companies that includes a subsidiary of RGC Resources of Roanoke, is already behind on its earlier goal to get permits restored in time to restart construction in late April.
Cox's email states that work could resume in July, assuming that Mountain Valley regains a biological opinion — the process used by the U.S. Fish and Wildlife Service to evaluate a project's impact on endangered species — and the Federal Energy Regulatory Commission lifts its stop-work order.
FERC ordered last October that all construction, except stabilization and erosion control work, be halted after environmental groups challenged the biological opinion. The commission then began a reconsideration process with the Fish and Wildlife Service, and the court case was placed on hold until that is done.
Provided that the stop-work order is lifted, Mountain Valley's plan "incorporates sufficient tie-in work and activity that will allow us to make construction progress into the fall, which keeps us on track with the existing schedule and budget," Cox wrote of the $5.5 billion project.
Since work began on the controversial project in early 2018, Mountain Valley has been cited by environmental regulators for repeated violations of erosion control regulations, allowing harmful sediment to flow off the construction zone and into nearby streams.
The pipeline will cross through six counties in Southwest Virginia on its way from northern West Virginia to connect with an existing pipeline in Pittsylvania County, transporting 2 billion cubic feet of pressurized natural gas a day.
As for the stream-crossing permit, Cox said she expects the Justice Department to appeal Morris' ruling to the 9th U.S. Circuit Court of Appeals.
But that could take at least a year unless there's a stay from the 9th Circuit, according to Height Capital Markets, an investment banking firm that has closely followed the development of the pipeline.
In a report issued late Monday, Height predicted that the pipeline will not be completed until next year, likely in the second quarter.
Morris did change part of his ruling Monday, allowing the Nationwide Permit 12 to be used for non-pipeline projects, such as electrical lines and other utility work. He also allowed companies to perform maintenance and repairs on pipelines.
Critics had argued that thousands of vital infrastructure projects across the United States would be jeopardized.
The Gain Coalition, or Grow America's Infrastructure Now, said in a statement issued Tuesday that even when limited to new pipelines, the ruling went too far.
"The judge sided with plants and animals over humanity in a decision that will directly impact hundreds, if not thousands, of jobs and likely raise the cost of energy," the statement read.