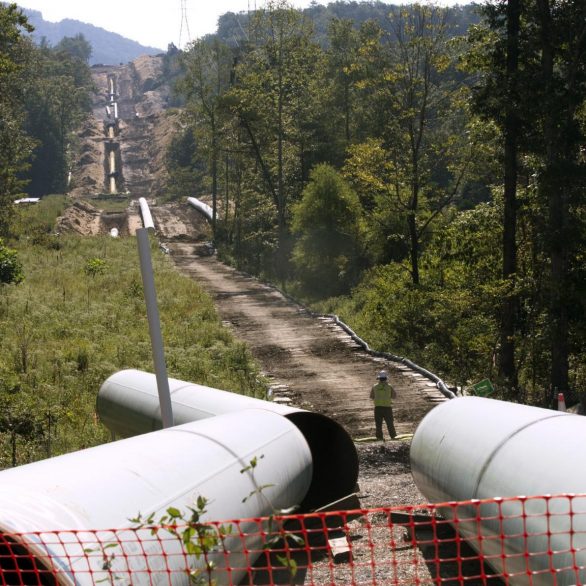 Federal Reviews Delay Mountain Valley Pipeline Yet Again
A winter hiatus in construction of the Mountain Valley Pipeline will last well into the spring.
The latest delay came last week, with word that two federal agencies will take another month to review one of several approvals — set aside by legal challenges from environmental groups — that must be restored before work can ramp up on the highly disputed natural gas pipeline.
Thursday had been the deadline for the Federal Energy Regulatory Commission and the U.S. Fish and Wildlife Service to finish their reconsideration of the project's impact on endangered or threatened species of fish and bats.
It was the third such delay since December, when the review was originally set to be completed.
Despite the slow process with that and two other sets of suspended permits, the joint venture of five energy companies says it still plans to finish the 303-mile pipeline by the end of this year.
"Mountain Valley will continue to work diligently to obtain all necessary permits to complete construction of this vital infrastructure," company attorney Matthew Eggerding wrote in a letter to FERC.
Since work began two years ago on the $5.5 billion project, regulatory agencies in Virginia and West Virginia have cited Mountain Valley for repeatedly violating erosion and sediment control regulations along the pipeline's path.
Other environmental problems, raised in legal challenges by the Sierra Club and other groups, have led to the suspension of three sets of permits: for the buried pipe to pass through the Jefferson National Forest, under more than 1,000 streams and wetlands in the two Virginias, and into the habitat of endangered species without causing them undue harm.
Last October, FERC ordered that all active construction be halted pending a review of a biological opinion, issued by the Fish and Wildlife Service in 2017, that found the pipeline would not significantly jeopardize protected fish and bats.
When construction was halted last year, Mountain Valley was allowed to stabilize some work sites and maintain erosion control over the pipeline's entire length from northern West Virginia to Chatham, near the North Carolina line.