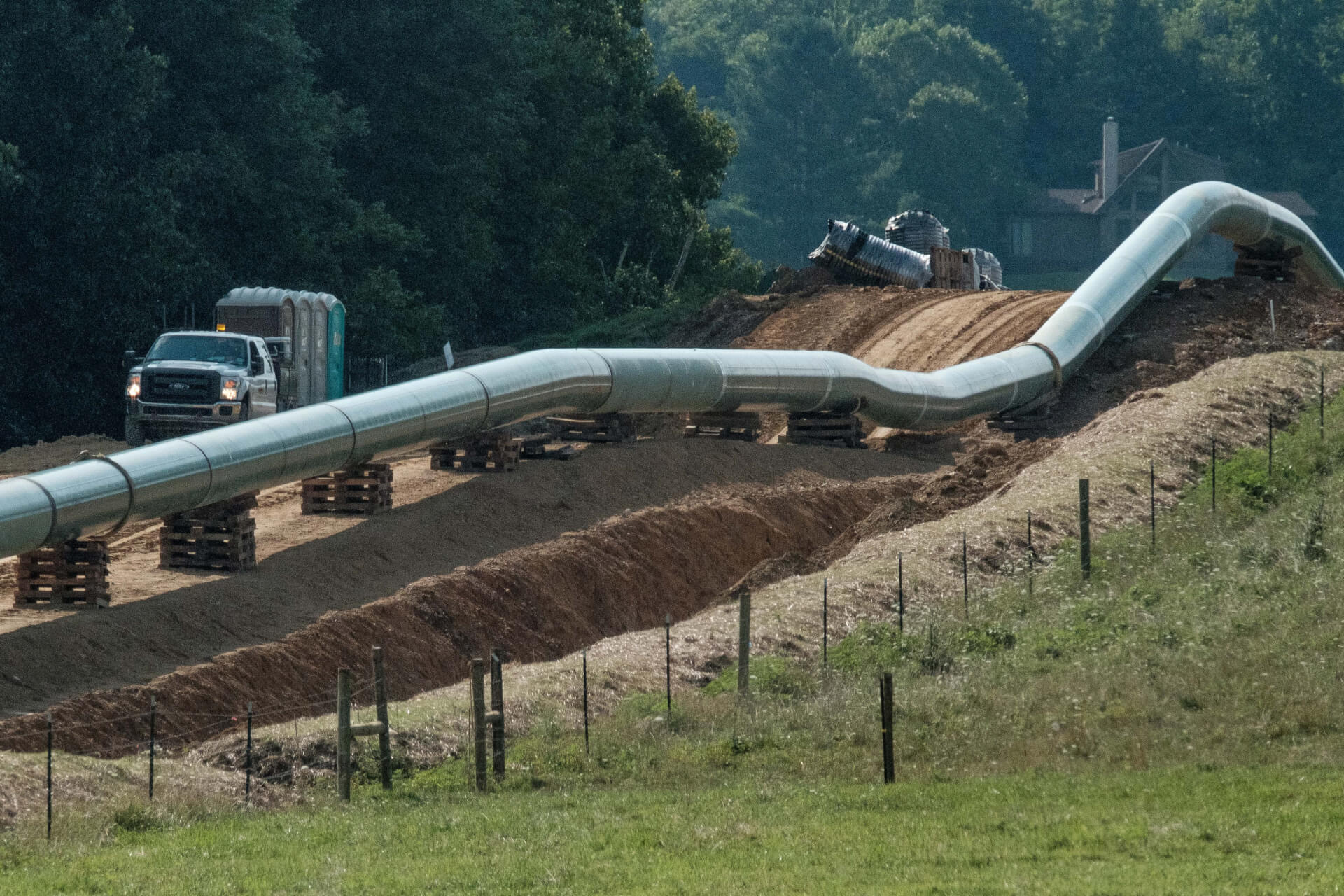 Federal Commission Slows Mountain Valley Pipeline
Federal energy regulators have slowed down the Mountain Valley Pipeline project, surprising some opponents of the project by not approving a request from Mountain Valley to bore under 69 waterbodies and wetlands along 77 miles of the pipeline at its northernmost end in West Virginia.
The Federal Energy Regulatory Commission split in a 2-2 vote Tuesday, with a fifth commissioner abstaining from voting, setting the issue aside without a resolution.
The FERC's deadlock denied Mountain Valley's requests to complete construction and final restoration work along the first 77 miles of the pipeline and effectively eliminate an exclusion zone where construction had been barred. The commission had issued an order last month allowing construction along a 17-mile stretch of the 25-mile zone covering parts of the Jefferson National Forest and surrounding private land.
FERC Commissioner Richard Glick said during the commission's virtual meeting that, in his view, the project could resume construction only after it secures all federal permits for waterbody crossings.
In November, the 4th U.S. Circuit Court of Appeals stayed permitting for waterbody construction that had been issued by the U.S. Army Corps of Engineers.
"The reason the commission doesn't authorize construction in the absence in a permit is that it makes no sense to enable a developer to begin digging up land and laying down the pipe when it may be that the subsequent permit is never obtained or it may be that the route of the project has to change because of the conditions associated with the subsequent permit," Glick said.
Glick has been consistent on that point, but he was joined in opposing Mountain Valley's request by a commissioner who was sworn in last month, Allison Clements. The commission's newest member, Mark C. Christie, abstained from voting.
Mary O'Driscoll, a FERC spokeswoman, said Christie felt that Mountain Valley's proposal might relate to his 17 years with the Virginia State Corporation Commission, from which he joined the FERC earlier this month. O'Driscoll added that Christie "may explore such issues" in these proceedings going forward.
Conservationists applauded the FERC, which they have viewed as a rubber stamp for pipeline projects such as the MVP in the past.
"It's the right decision to not allow further construction until MVP has all of its permits in place," said Angie Rosser, executive director of the West Virginia Rivers Coalition. "West Virginia has already experienced its undue share of pipeline impacts to its lands and waters, we don't want to risk any further unneeded damage, like we saw with the Atlantic Coast Pipeline."
Canceled by developers in July, the Atlantic Coast Pipeline would have transported natural gas supplies from West Virginia to public utilities in Virginia and North Carolina. It was to span 600 miles. Before it was canceled, 21.8 miles of pipe was installed in West Virginia, and only 32.1 of the project's 92.8 miles would have been left undisturbed, according to a restoration plan that Atlantic Coast Pipeline LLC filed earlier this month with the FERC.
The Mountain Valley Pipeline is designed to be a 303-mile natural gas pipeline system traveling from Northwestern West Virginia to Southern Virginia. It will cross Wetzel, Harrison, Doddridge, Lewis, Braxton, Webster, Nicholas, Greenbrier, Fayette, Summers and Monroe counties in the Mountain State.
Mountain Valley has projected that the 42-inch-diameter pipeline would provide up to 2 billion cubic feet per day of natural gas from the Marcellus and Utica shale formations to markets in the Mid-Atlantic and Southeastern regions of the United States.
"As MVP attempts to continue construction of its flawed, dangerous pipeline, yesterday's deadlocked vote from [the] FERC on the company's request to bore under streams was welcome," said Jessica Sims, Virginia field coordinator of Appalachian Voices. "We hope this signals that the commission will fully examine the project's harmful impacts to communities, water resources and the climate going forward, and reject any further attempts by MVP to undermine state and federal water protections."
Natalie Cox, spokeswoman for Equitrans Midstream Corp., the Canonsburg, Pennsylvania-based developer of the pipeline, argued in part in a statement Wednesday that approving the requested waterbody construction and final restoration work would have benefited the environment, as well as landowners who have experienced an extended period of disruption to their properties from what she said were unnecessary project delays.
But Maury Johnson of Monroe County, a West Virginia representative with the Protect Our Water, Heritage, Rights coalition consisting of West Virginians and Virginians, is hopeful that this latest delay could be a sign of even greater frustrations to come for the developer. He hailed what he said was a "sea change" from the FERC as it denied permits and certificates for other projects across the country, such as the proposed Pacific Connector Gas Pipeline and the Jordan Cove Energy Project in Oregon.
"It was a totally different day at [the] FERC," Johnson said.
He noted that the FERC's new members — and an expected change in the commission chair's party affiliation from Republican to Democrat under the new Biden administration — could mean "a new era at [the] FERC."
Cox observed that Mountain Valley's requests for the pipeline project remain available for future action from the commission and said Mountain Valley continues to target a late 2021 in-service date.
Johnson is skeptical, pointing out that the targeted in-service date has been pushed back several times and that Equitrans originally estimated the pipeline would be completed by the end of 2018.
But legal and regulatory challenges have repeatedly set the project back and helped raise its price tag to at least $5.8 billion, over 50% more than its original cost estimate, even as the project has scored recent victories, such as U.S. Forest Service approval of a route through the Jefferson National Forest.