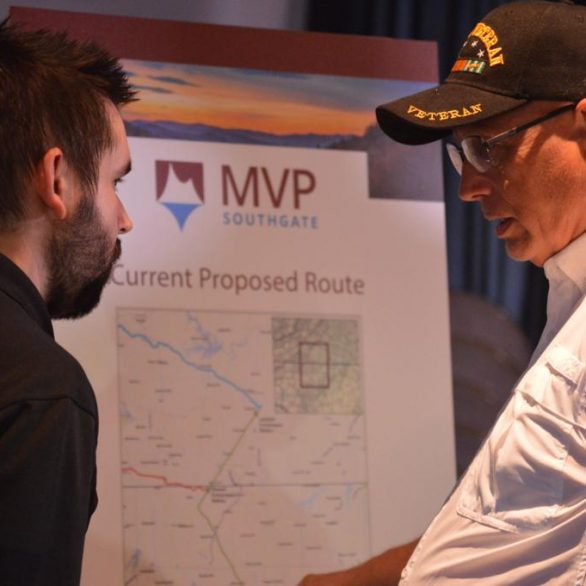 FERC Staff Sees Limited Impacts From MVP Southgate Pipeline Expansion
Washington — A 375 MMcf/d, 75-mile natural gas pipeline project that would extend the Mountain Valley Pipeline to North Carolina advanced at the Federal Energy Regulatory Commission with the release of a favorable final environmental impact statement.
FERC staff on Friday concluded the MVP Southgate Project would result in limited adverse environmental impacts and those would be reduced to less-than-significant levels through avoidance, minimization and mitigation proposed by the developer and by staff. The final EIS acknowledged some long-term and permanent environmental impacts on forests and wetlands.
MVP Southeast, estimated to cost $468 million, is slated to start construction this year, with completion targeted for 2021, Shawn Day, a spokesman for the project said Monday. The related MVP project is still targeting a late-2020 start of service, even as the US Fish and Wildlife Service has extended Endangered Species Act consultation for the project until March 26, potentially pushing off an early resumption of construction.
Like the larger MVP project, MVP Southgate has drawn strong pushback from environmental groups. The environmental review has also attracted notes of caution from some federal and state agencies and from competing pipelines.
The EIS, however, highlighted a variety of steps to limit impacts and noted that about 49% of the project would be built adjacent to existing rights-of-way.
EROSION CONTROLS
Some commenters highlighted problems with erosion that occurred during construction of the Mountain Valley Pipeline and said FERC unreasonably relies on measures that had previously been ineffective.
To those comments, FERC staff replied that the commission considers each project "on its own merits irrespective of other projects." FERC's professional judgment, based on decades of experiences on hundreds of projects, is that the plan and procedures are sufficient to minimize impacts to resources, the EIS said. The project is unlikely to permanently affect surface or groundwater resources, it found.
FERC also was not swayed by competing pipelines Transcontinental Pipe Line and Atlantic Coast Pipeline, which argued that they could offer alternatives to the project with the potential to reduce environmental impacts.
"Without modifications, these pipeline systems currently do not have the available individual capacity, combined available capacity, nor direct physical connection to transport the required volumes of natural gas to the delivery points proposed for the project," the EIS said.
The project has a 300,000 Dt/d firm contract with local gas distribution company Dominion Energy North Carolina, formerly PSNC Energy.
FERC staff also set aside arguments that the alternatives analysis needs to consider renewable energy options, non-gas energy alternatives, conservation and efficiency. Because those alternatives are not natural gas transportation, "they do not meet the project purpose and were not analyzed," the EIS said.
The North Carolina Department of Environmental Quality had argued the draft EIS ignored the scope of the transitioning energy economy and tipped the scales to gas.
The commission said the debate over whether the project was needed would be addressed in the upcoming FERC order on whether to grant a certificate of public convenience and necessity.
MVP Southgate, in a statement, emphasized that since the project was announced, the MVP team has made more than 1,200 adjustments to its route, mostly based on landowner requests, engineering considerations and efforts to avoid sensitive resources. It said it remained committed to working collaboratively with a variety of stakeholders, including landowners, federal and state agencies, local governments, tribes, community groups and non-governmental organizations.