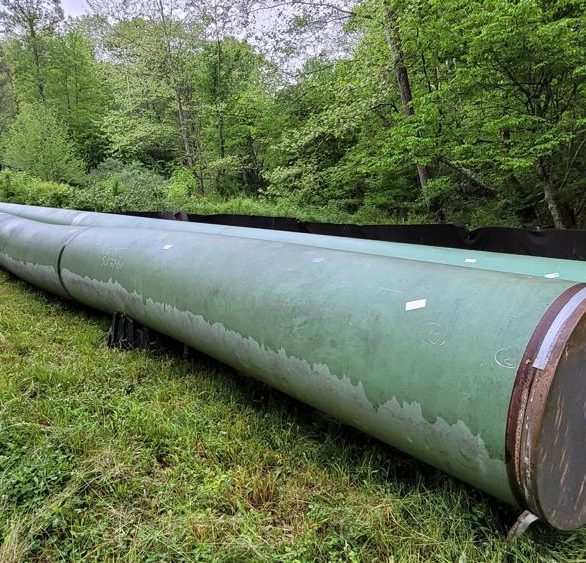 Industry, conservationists divided on deal designed to force completion of Mountain Valley Pipeline
A week ago, the Mountain Valley Pipeline was mired in a morass of legal and regulatory challenges with a murky future. Now the project is on a strikingly fast track to completion set by Congress.
The Senate late Thursday advanced to President Joe Biden's desk a deal to suspend the nation's debt limit and avoid a default that includes a provision designed to force completion of the long-delayed pipeline.
The Senate approved the Fiscal Responsibility Act in a 63-36 vote hailed by West Virginia's senators for its provision to complete the 303-mile pipeline by prohibiting judicial review of permitting processes that have held up the project because of its lengthy history of environmental issues.
Sens. Joe Manchin, D-W.Va., and Shelley Moore Capito, R-W.Va., voted for the bill after hailing its provision to force completion of the 42-inch-diameter pipeline running through West Virginia into Virginia. Both senators have been among the pipeline's most vocal proponents.
Manchin and Capito opposed an amendment sponsored by Sen. Tim Kaine, D-Va., that would have removed the pipeline provision. The amendment failed on a 69-30 vote, despite support from Kaine and Virginia's other Democratic senator, Mark Warner.
Senate Majority Leader Chuck Schumer, D-N.Y., opposed the amendment, arguing that any changes to the bill requiring it to be sent back to the Republican-controlled House would result in a national default. Treasury Secretary Janet Yellen told Congress it had to address the debt ceiling by Monday or the nation wouldn't have enough money to fully pay its obligations on time.
The House passed the Fiscal Responsibility Act on Wednesday with a 314-117 vote, just three days after the bill was announced and released. Rep. Carol Miller, R-W.Va., voted for the measure, praising its pro-Mountain Valley Pipeline provision. Rep. Alex Mooney, R-W.Va., voted against the bill, arguing that it wasn't fiscally responsible enough.
Manchin called the pipeline a "critical energy security project" in a statement Thursday night, predicting it would strengthen domestic energy production and lower energy costs for West Virginians. Renewable energy advocates have forecast the opposite, arguing an Energy Information Administration-projected long-term decrease in domestic gas consumption for demand and opening up new markets could increase gas prices in Appalachia.
"This effort was truly a bipartisan one and demonstrated that Congress, as a whole, can work together to avoid default, which was the ultimate goal," Capito said of the deal, a product of negotiations between the White House and House of Representatives Speaker Kevin McCarthy, R-Calif.
Biden had not yet signed the bill as of press time Friday evening.
The deal expediting the pipeline has elated industry leaders and enraged environmentalists.
Leaders of Equitrans Midstream Corp., the Pennsylvania-based lead developer of the pipeline, the Gas and Oil Association of West Virginia, and the West Virginia Manufacturers Association applauded the bill's passage in a news release from Manchin's office.
Equitrans Midstream Corp. chairman and CEO Thomas Karam said Manchin has been "the North Star of energy security." Equitrans and other developers of the pipeline have contributed over $70,000 to Manchin's and Capito's campaign committees since the start of 2018, according to a Gazette-Mail review of campaign finance reports.
"His support for the Mountain Valley Pipeline is emblematic of his commitment to West Virginia and to the United States," Karam said of Manchin.
"As West Virginians, we welcome an opportunity for our natural gas production industry to achieve greater exposure to markets elsewhere," West Virginia Manufacturers Association President Rebecca McPhail said. "Completion of the Mountain Valley Pipeline will be a win for industry and our state."
In Manchin's news release, West Virginia Chamber of Commerce President Steve Roberts called the pipeline a "transformational project in terms of energy security for the United States."
The Mountain Valley Pipeline would transport up to 2 billion cubic feet per day of gas from the Marcellus and Utica shale formations in West Virginia to markets in the Mid-Atlantic and Southeastern United States.
Annual interstate natural gas pipeline capacity additions have dwarfed that amount in most years since at least 1995, according to U.S. Energy Information Administration data. Last year, the United States added just 897 million cubic feet per day, less than half of what the Mountain Valley Pipeline would add in the lowest annual capacity added on record.
Charles Parker, business manager of Charleston-based International Union of Operating Engineers Local 132, predicted that the pipeline would yield jobs with good wages and benefits for West Virginians.
The Mountain Valley Pipeline has gone through rounds of approvals from the U.S. Fish and Wildlife Service and U.S. Forest Service in the Donald Trump and Joe Biden administrations. But the U.S. 4th Circuit Court of Appeals repeatedly has found that those approvals failed to account for environmental damage, throwing them out.
Manchin contended that the pipeline's past rounds of invalidated permitting approvals ensured the project would be "completed in a manner that protects West Virginia's lands and waters."
If signed into law, the Fiscal Responsibility Act would render moot a federal court challenge that environmental groups have mounted against the Fish and Wildlife Service's latest approval of the project.
Last week, the U.S. Circuit Court for the District of Columbia ruled that the Federal Energy Regulatory Commission had insufficiently explained its decision not to prepare a supplemental environmental impact statement addressing unexpectedly severe erosion and sedimentation along the pipeline's right-of-way.
West Virginia and Virginia environmental regulators have fined Mountain Valley Pipeline more than $2.7 million for sedimentation and erosion issues.
West Virginia's mountainous terrain and history of pipeline failures have fueled worries that the risk of a Mountain Valley Pipeline rupture is too high, especially amid more extreme rainfall events expected to destabilize slopes and soil further as climate change worsens.
Natalie Cox, the spokeswoman for Mountain Valley Pipeline LLC, the joint venture behind the pipeline, said the project team has worked with regulators to locate the pipe along ridges or perpendicular to slopes and ensure that site-specific design measures are employed where appropriate.
"The Mountain Valley Pipeline has repeatedly failed to demonstrate that it can be constructed without gross violations of the law," Chelsea Barnes, government affairs and strategy director of environmental nonprofit Appalachian Voices, said in a statement Thursday night. "This action by Congress and the White House to attempt to skirt environmental laws, force the issuance of permits, and strip the courts of their authority is an abuse of power and a denial of environmental justice."
Pipeline-affected Monroe County landowner Maury Johnson said in a statement Friday that fighting what he called the "unnecessary and ill-conceived" project will continue to be his life's mission. He criticized the project's water quality and climate effects.
"While we are outraged and devastated in this unprecedented moment, we will never stop fighting this unfinished, unnecessary, and unwanted project," Denali Nalamalapu, communications director for Protect Our Water, Heritage, Rights, a coalition of West Virginia and Virginia groups opposing the pipeline, said in a statement. "Our hearts are broken but our bonds are strong."
Nalamalapu noted that pipeline opponents plan to urge Biden to stop the Mountain Valley Pipeline at a White House gathering Thursday.
In an email to supporters Friday, West Virginia Rivers Coalition Program Director Autumn Crowe said the nonprofit has added a Mountain Valley Pipeline organizer and will train hundreds of volunteers to "watchdog" streams to ensure sufficient oversight.
The project has 595 stream and wetland crossings remaining, including traditional navigable waters, access roads, additional temporary workspace, and pipeline, West Virginia Department of Environmental Protection spokesman Terry Fletcher said Thursday. That includes pipeline crossings over 189 streams and 108 wetlands, he said.
"West Virginia is truly America's energy MVP," Manchin said.