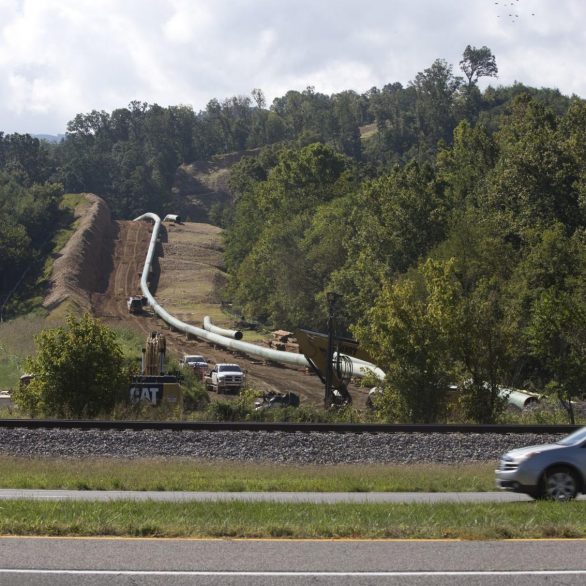 Judge Dismisses Lawsuit That Contested Mountain Valley's Power Of Eminent Domain
Legal action has failed, once again, to undo the taking of private land for a natural gas pipeline through Southwest Virginia.
"This case presents the latest trickle in a veritable flood of litigation" against the Mountain Valley Pipeline, U.S. District Court Judge James Boasberg wrote in an opinion last week dismissing the lawsuit.
Three couples with land in the pipeline's path had sued Mountain Valley and the Federal Energy Regulatory Commission, alleging that the commission should not have given a corporate venture the right to seize their property by eminent domain.
Because Congress improperly delegated legislative power to FERC, the lawsuit had claimed, all pipeline approvals by the agency that led to property being taken against a landowner's wishes should be invalidated.
Calling the request "breathtaking in scope," Boasberg wrote that his courtroom was the wrong place to make it.
His 19-page opinion noted that when FERC finds there is "public convenience and necessity" for a pipeline, as it did with Mountain Valley, the law allows it to convey its power of eminent domain to the developer.
The first step to challenging such an action is to seek a rehearing with FERC. If the commission refuses to change its decision, as it did in June 2018, an appeal can be taken to the U.S. Circuit Court of Appeals.
Such a challenge was brought, with the appellate court upholding all of FERC's contested findings in 2019, including its decision that there was a public need for the gas that will flow through the pipeline.
In January, three sets of landowners filed their lawsuit in Boasberg's court in Washington, D.C., contending that Congress through the Natural Gas Act gives too much power to FERC, which in turn conveys eminent domain authority to private entities in a way that is unconstitutional.
But their "attempt to transform their grievance with FERC over MVP's certificate into a facial constitutional challenge cannot save them from the statutorily mandated administrative-review process," Boasberg wrote in his decision. "The court will therefore dismiss the case for lack of subject-matter jurisdiction."
Two similar lawsuits filed earlier, in Roanoke and Washington, D.C., were also dismissed on the same grounds.
Mia Yugo, a Roanoke attorney who brought the most recent case, said her clients respect but disagree with the ruling, and are considering an appeal.
"Our clients, as landowners, are driven by the belief that protecting private property rights is at the heart of ensuring our individual rights and liberties," Yugo wrote in an email on behalf of Cletus and Beverly Bohon of Montgomery County, Wendell and Mary Flora of Franklin County and Robert and Aimee Hamm of Roanoke County.
They and others are hopeful that "broad deference to federal agencies" will eventually come to an end, she wrote.
A FERC spokeswoman declined to comment this week, citing a policy of not talking about litigation. Mountain Valley had not responded to a request for comment by 6 p.m.
Eminent domain in most cases allows governmental bodies to take private land for a public good — such as a highway or power line — provided the aggrieved owner receives just compensation.
Shortly after FERC approved Mountain Valley's request in 2017 to build a 303-mile pipeline from northern West Virginia to Pittsylvania County, the company filed suit against the owners of about 300 parcels in Southwest Virginia who had resisted selling easements for the pipeline to run through their rural land.
A federal judge granted Mountain Valley immediate possession of the land in early 2018, allowing construction to begin before the landowners were paid. The amount of compensation for the Bohons, Floras and Hamms has yet to be resolved.
Although fighting Mountain Valley's use of eminent domain has not fared well for opponents, other legal challenges that raised environmental concerns about burying a 42-inch diameter pipe along steep slopes and under streams have found more success.
Three sets of permits — for the pipeline to pass through the Jefferson National Forest, to cross hundreds of streams and wetlands, and to be built in a way that does not jeopardize endangered species — were set aside after lawsuits were filed by environmental groups.
Construction is currently stalled as Mountain Valley works to regain permits from a variety of federal agencies.
Executives with EQM Midstream, the lead partner in a joint venture of five energy companies building the pipeline, said in a conference call Thursday that there was still a "narrow path" to their goal of completing the project by the end of the year.