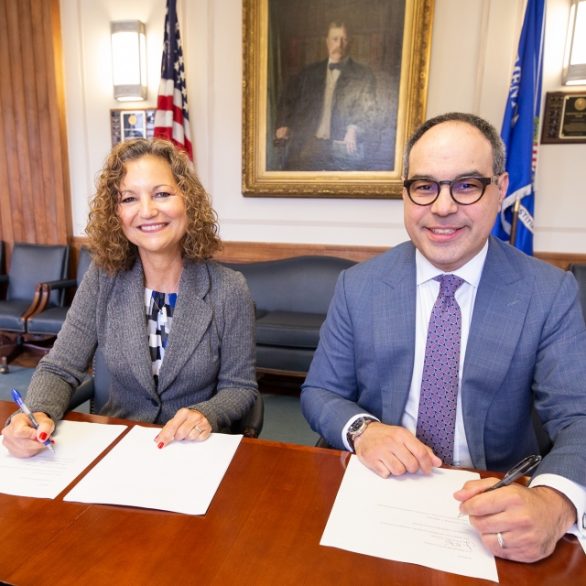 Justice Department and National Labor Relations Board Announce Partnership to Protect Workers
The Justice Department's Antitrust Division and the National Labor Relations Board (NLRB) signed a memorandum of understanding (MOU) today to strengthen the partnership between the two agencies to better protect competitive labor markets and ensure that workers are able to freely exercise their rights under the labor laws. By strengthening their partnership, the agencies also achieve the objectives of the President's Executive Order on Promoting Competition in the American Economy just days after the Order's one-year anniversary.
"Protecting competition in labor markets is fundamental to the ability of workers to earn just rewards for their work, to live out the American dream, and to provide for their families," said Assistant Attorney General Jonathan Kanter of the Justice Department's Antitrust Division. "By cooperating more closely with our colleagues in the NLRB, we can share information on potential violations of the antitrust and labor laws, collaborate on new policies and ensure that workers are protected from collusion and unlawful employer behavior. As the department noted in the amicus brief we submitted in the NLRB's recent Atlanta Opera matter, we support the Board's ongoing efforts to update its guidance to ensure that workers are properly classified under the labor laws. Protecting the right of workers to earn a fair wage is core to the work of both our agencies, and it will continue to receive extraordinary vigilance from the Antitrust Division."
"Under the National Labor Relations Act (NLRA), workers have the right to organize to improve their pay and working conditions," said NLRB General Counsel Jennifer Abruzzo. "When businesses interfere with worker organizing, either through creating structures designed to evade labor law or through anti-competitive practices, it hinders our economy and our democracy. This MOU will strengthen the federal government's ability to effectively stop this kind of unlawful activity and, therefore, to better protect workers' right to freely associate with one another to improve their wages and working conditions, and to collectively bargain through freely chosen representatives."
The Department of Justice and the NLRB share an interest in promoting open and competitive labor markets, including through protecting American workers from collusive or anticompetitive employer practices and unlawful interference with employees' right to organize. Through greater coordination in information sharing, enforcement activity, and training, the two agencies will maximize the enforcement of federal laws, including the labor laws under the NLRB's jurisdiction and the antitrust laws enforced by the Justice Department's Antitrust Division. In particular, this MOU will allow the two agencies to refer to each other, as appropriate, and to coordinate on policy, strategy, and training.