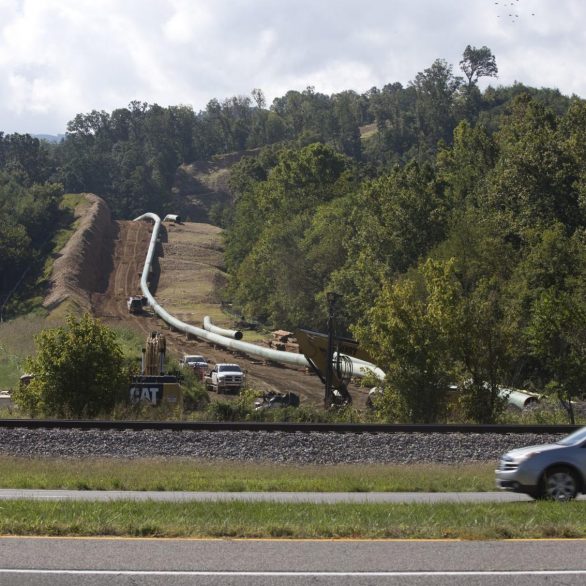 Latest Lawsuit Against Mountain Valley Pipeline Contests The Taking Of Private Land
Work on the Mountain Valley Pipeline might be stalled for the winter, but that has not stopped the legal challenges against the embattled project.
In the latest attack, brought Thursday, three couples who had their land taken for the natural gas pipeline are contesting the seizures, arguing that as a private company, Mountain Valley should not have been allowed to use the laws of eminent domain.
The lawsuit — filed on behalf of Cletus and Beverly Bohon of Montgomery County, Wendell and Mary Flora of Franklin County and Robert and Aimee Hamm of Roanoke County — seeks a remedy that would extend far beyond the pipeline's 303-mile route.
"What we have here is bureaucracy run amok," said Mia Yugo, a Roanoke attorney who filed the case with Tom Bondurant and John Thomas. "When it comes to eminent domain, FERC has far too much power and discretion."
Eminent domain in most cases allows governmental bodies to take private land for a public good — such as a highway or a power line — provided the aggrieved land owner receives just compensation for their loss.
But when it passed the Natural Gas Act, Congress delegated to FERC "massive authority" to use or delegate the power for pipelines with little legislative guidance, the lawsuit asserts.
Filed in U.S. District Court in Washington, D.C., the lawsuit names FERC and Mountain Valley as defendants.
A spokeswoman for FERC, which approved the project in 2017 and has lead oversight of its construction, declined to comment Friday, citing a policy of not talking about pending litigation.
Mountain Valley spokeswoman Natalie Cox said only that the company "is reviewing the filing and will respond accordingly based on the provided information."
Although other landowners who had their property taken for the pipeline have brought lawsuits against FERC and Mountain Valley, with no success, the one filed this week raises different arguments in mounting a broader challenge of all similar pipeline projects, Yugo said.
When FERC approved the project, it found there was a public need for the 2 billion cubic feet of natural gas a day the pipeline will transport to markets on the East Coast. But critics point to a market glut and say the gains will go more to the energy companies building the pipeline than to the public.
Shortly after FERC approved the project, Mountain Valley filed suit against the owners of about 300 pieces of land in Southwest Virginia who had resisted selling easements for a pipeline they didn't want to run through their rural land.
A federal judge granted the company immediate possession of the land in early 2018, allowing construction to begin. Although many landowners have since settled with Mountain Valley, the Bohons, Floras and Hamms have asked juries to determine how much they should be paid.
The Bohons' property in Elliston is the site of a tree-sit protest, which for more than a year has prevented Mountain Valley from cutting the last remaining trees along the pipeline's route.
Although work is currently in a winter lull, earlier lawsuits have hampered Mountain Valley, leading to delays and cost overruns.
Three sets of key federal permits — for the pipeline to pass through the Jefferson National Forest, cross more than 1,000 streams and wetlands and be built in a way that does not harm endangered species of fish and bats — were revoked or suspended following legal challenges by environmental groups.
Mountain Valley must regain those permits, as well as maneuver the latest legal hurdle placed in its path, if it is to complete the pipeline by the end of this year.