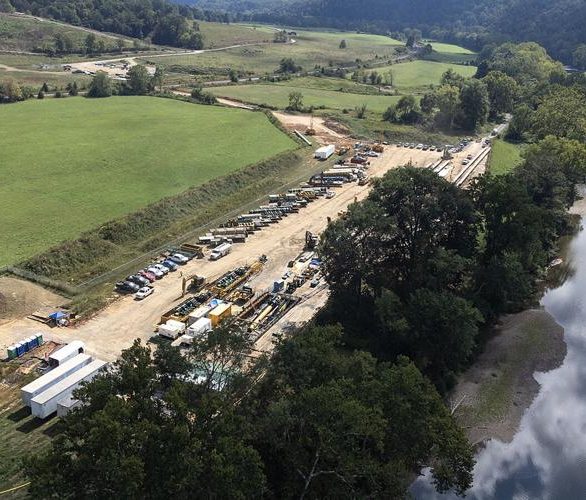 Manchin gets hands-on look at MVP construction; protesters arrested in Summers County
With the legal fight over, for now, construction has resumed on the Mountain Valley Pipeline in West Virginia.
But not without protest. U.S. Sen. Joe Manchin, D-W.Va., toured a construction site last week in Summers County where he touted the benefits of the long-delayed natural gas pipeline project.
Manchin said more than 4,500 workers will be needed to finish the pipeline construction. Once the pipeline is operational, he said it will create more than $50 million in tax revenue and more than $175 million in royalties for West Virginia landowners.
"To see West Virginians hard at work on this pipeline fills me with pride and excitement," Manchin said. "The Mountain Valley Pipeline allows us to get more of the abundant natural resources we're blessed with to the rest of the country — strengthening America's energy security and lowering energy costs for families. West Virginia is America's Energy MVP, not only because we power our nation, but also because we demonstrate that when we work together, we can accomplish great things for our country."
Work on the 303-mile natural gas pipeline project for West Virginia and Virginia is about 95 percent complete, various officials have said.
The U.S. Supreme Court ruled in July that construction on the pipeline can resume, striking down a stay issued earlier this summer by the Fourth Circuit Court of Appeals in Richmond, Va.
Lawyers for the company said they needed quick Supreme Court action to keep plans on track to finish building the pipeline and put it into service by the winter, when the need for natural gas for heating grows, according to earlier reports by The Associated Press.
A motion to dismiss the challenges to the project by environmental groups was then granted last month by the appeals court. Environmental groups had been fighting the pipeline project over concerns about its impact on endangered species, erosion, and stream sedimentation.
Legislation passed by Congress, and signed into law earlier this summer by President Joe Biden, approved all of the necessary permits for the project and included language stating that the Fourth Circuit Court no longer had jurisdiction in the case and that any future legal filings with regard to the pipeline project must now instead be heard in the Court of Appeals for the D.C. Circuit.
Still, protests are popping up at various work sites along the pipeline route in West Virginia and Virginia.
Six pipeline protestors were arrested and later released at the Greenbrier River crossing work site in Summers County on Thursday morning, according to a news release from Appalachians Against Pipelines.
Four protesters were part of the self-proclaimed "Rocking Chair Rebellion," a contingent of elder protesters in rocking chairs blocking an MVP access road, with their legs locked into concrete barrels. Two others locked themselves to the drill that MVP will use to drill under the river.