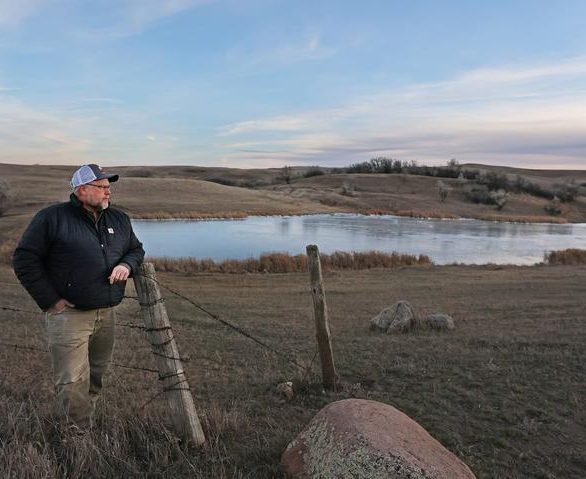 Massive Midwest pipeline, a test for North Dakota's carbon capture goals, hits landowner snags
In early September, AJ Blohm was moving cattle on her family farm in central North Dakota when a neighbor approached her with what sounded like a bizarre proposal.
A company in Iowa was considering her property as part of the destination for tens of millions of tons of carbon dioxide, she soon learned. They could pay her to bury it forever thousands of feet below her land.
The project introduced by Blohm's neighbor, who was working for the Iowa-based Summit Carbon Solutions, is the $4.5 billion Midwest Carbon Express. The 2,000 mile pipeline network aims to coalesce the carbon dioxide emissions from 31 ethanol plants in five states and ship it to North Dakota, where Summit is evaluating land in Oliver and Mercer counties to permanently bury the climate-warming gas. If it works, the Midwest Carbon Express would be the world's largest carbon capture system, pulling in 12 million tons of carbon dioxide per year and increasing the annual volume stored globally today by 25%.
It could also present the first bigtest for a technology that North Dakota leaders have pitched as the future of the state's agriculture and energy sectors. The success of carbon capture is essential to Gov. Doug Burgum's goal of achieving statewide carbon neutrality by 2030, a reach that the second-term Republican has said is attainable if the state can turn its porous geology into a vast carbon sink for the region.
It's also a trial of what such a future could hold for North Dakotans. Farmers and ranchers in central North Dakota are coming off a trying summer of historic drought, Blohm noted. The money offered by Summit could help.
"There's a lot of people surviving off of the weirdest things right now," said Blohm, who signed a lease to enroll her land in the Summit project a few weeks after first hearing about it.
Still, Blohm said she remains wary of what the giant carbon storage project could mean for her land and water, and she's hopeful that a group of nearby landowners still bargaining with Summit will create beneficial spillovers for her own contract.
Kurt Swenson, a landowner southof Blohm, is one of those holdouts in a loosely-formed group that he said accounts for up to20,000 to 25,000 acres, or about 15%, of Summit's total evaluation area. He stressed his overall support for the project but said he sees the lease offer from Summit as a non-starter.
Swenson, who spent about a decade building and operating ethanol plants around the country, said he recognizes the benefits that carbon capture could bring to the local coal and ethanol industries. But he also worries about the land damages and safety risks that come with piping and injecting so much carbon dioxide into the ground if Summit can't be held responsible for what happens.
"That's what we're facing — is that threat," said Swenson, "of taking our private property so that somebody else can enrich themselves."
An emerging market
In recent years, a federal tax credit that pays companies to permanently bury carbon dioxide has spurred new carbon capture ventures around the country. The massive spending bill making its way through Congress could substantially elevate the value of those credits, and ethanol-focused projects like Summit's have the added advantage of being able to tap lucrative low-carbon fuel markets in states like California.
In North Dakota, the Midwest Carbon Express is the largest in a growing roster of projects looking to deploy the technology to clean up polluting industries like coal and ethanol and keep them viable into the climate-conscious future. Not far from Summit's storage evaluation area, two of North Dakota's coal-fired power plants are pursuing billion-plus dollar efforts to outfit their facilities for carbon capture, while an ethanol plant in Richardton recently became the first project in the state to receive regulatory clearance for underground storage.
And though carbon capture remains sparsely used and untested at the scale needed to put a substantial dent into North Dakota's carbon footprint, Summit could change that. In cost and size, the Midwest Carbon Express rivals the 1,200 mile Dakota Access Pipeline, and Summit says the carbon buried through its project would be enough to get North Dakota 20% of the way to Burgum's goal.
Still, the Midwest Carbon Express has prompted concerns from some landowners about the implications of mass carbon storage for their land and water. If North Dakota is going to be the "garbage disposal" for Summit's carbon dioxide, Swenson said the company should be paying landowners at a rate that aligns them with the project.
And Swenson argued that the company will be hard-pressed to make the case that its project is offering the public benefit needed to justify eminent domain. That question could prompt legal fights over Summit's project or others like it down the line, he said.
Wade Boeshans, executive vice president for Summit who has overseen the sequestration part of the project, said he has prioritized transparency and found encouraging support so far among North Dakota landowners.
The goal is to negotiate agreements with all of the landowners involved, Boeshans said, though he acknowledged that eminent domain could become an option for the company at some point. The Summit executive declined to specify how much of the land area has already been leased for evaluations and storage.
Derrick Braaten, a Bismarck attorney who specializes in landowner rights, has been working with some of the Summit holdouts and likened the recent emergence of a carbon storage market to the early days of North Dakota's oil boom — this time, carbon would be going into the ground instead of out. Determining fair compensation for carbon storage under someone's land is a bit like trying to nail down the price of bitcoin, Braaten said. Right now, "it's a moving target."
"Landowners don't realize that if they sign a lease with whatever low-ball offer Summit is offering, then they're setting precedent," he said. "If anyone has any experience in the oil fields, the idea that you would just sign the first thing that's handed to you is crazy."
Boeshans, who grew up in the Beulah area and who previously worked as president of the coal mine operator BNI Energy, declined to comment on Braaten's critique of the payment rates for landowners but said he modelled the leases after agreements that have functioned well in the coal industry for decades.
He also disagreed with comparisons to volatile commodities like oil. Unlike the constrained oil market, Boeshans noted, research indicates that the U.S. has trillions of tons of underground carbon storage potential, a resource he said is not likely to run out.
Safety concerns
First announced in February, the Midwest Carbon Express has picked up steam in recent months as Summit has begun holding meetings with property owners and securing land for its pipeline and storage.
That process has been particularly rocky at the project's origins in Iowa, where Summit recently received clearance from state regulators to keep the names of landowners in the proposed pipeline path confidential, according to reporting in the Des Moines Register, even as some farmers and activist groups petitioned to publicize the list so they could organize against the project.
Both landowners and environmental groups like the Iowa chapter of the Sierra Club have cited the safety of carbon dioxide transport as a chief concern. Dozens of people were hospitalized after a carbon dioxide pipeline ruptured last year in Mississippi.
And skeptics of carbon capture argue that while companies insist that injected carbon dioxide will hold in its underground chamber forever, the process still hasn't been tried at the scale being pursued by companies today.
"We don't know. And who has the responsibility if they're wrong?" said Carolyn Raffensperger, an Iowa attorney and the director of the Science and Environmental Health Network.
If a pipeline or storage leak did occur, Raffensperger said carbon dioxide could suffocate livestock and acidify water wells. And even if the process works safely for the foreseeable future, the success of projects like Summit's hinges on the guarantee that the carbon dioxide will remain sequestered long after current landowners and proprietors are gone.
"People aren't very farsighted about this," she said.
Matt Fry, a regional coordinator for the Great Plains Institute, a research organization supportive of carbon capture, said it will be important for Summit and other companies to take these safety concerns seriously, but he added that the risks of transporting carbon dioxide are easy to mitigate. There are close to 5,000 miles of carbon dioxide pipelines currently operating nationwide, and Fry said that none has ever resulted in a human fatality.
For the United States to meet its mid-century climate goals, carbon capture is going to be an essential tool, Fry argued. And to make it work at scale, "we're going to need to develop these big interstate pipelines to deliver carbon from source to sink."
Boeshans said the process of securing land for the route of Summit's pipeline got underway in North Dakota this week.
'It's all so new'
In mid-November, Boeshans spoke to a few dozen farmers and ranchers gathered on a well pad just off North Dakota's Highway 49, at a project demonstration hosted by Summit.
The well pad is the site of one of three Summit test wells, which are being drilled 12,000 feet into the earth to evaluate the suitability of local geology for carbon storage. Later, the test wells would be used to monitor the underground carbon dioxide plume to ensure that it stays in place.
Maynard Blohm, AJ's father, no longer lives on the family farm being considered by Summit for carbon storage but said he attended the demonstration to learn more about the consequences of the project for the land his daughter now ranches.
An oil pipeline and a transmission line already cut through the Blohm property, but Maynard said he has had a hard time gauging how he should feel about the novel carbon storage plans. He said he hopes Boeshans and other community members recruited by Summit will keep the best interests of their friends and neighbors in mind.
"It's all so new," he said. "I don't know if we're getting a good deal or a terrible deal."