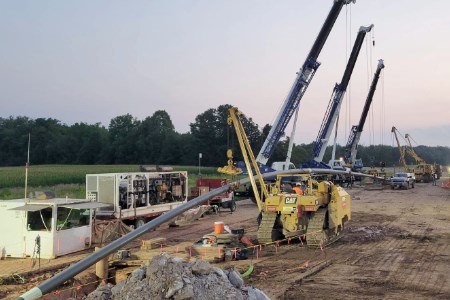 Michels Canada Completes Canada's Longest HDD Installation
Michels Canada extended the limits of trenchless construction in Canada by using horizontal directional drilling (HDD) to complete a 3540 m crossing in Burlington, Ontario, under the Hidden Lake Golf Club.
The installation is part of Imperial's Waterdown to Finch Project, a proactive replacement of approximately 63 km of the Sarnia Products Pipeline between the Waterdown pump station in rural Hamilton and the storage facility in Toronto's North York area.
The Hidden Lake HDD is the longest successful HDD installation in Canada to date, surpassing the previous record of 2195 m, also set by Michels Canada.
Horizontal Directional Drilling (HDD) uses powerful drill rigs to open up a borehole along an engineered alignment and install utilities or conduits along the completed bore path. Because it is trenchless technology, HDD installations are completed with minimal surface disruption and environmental impact. For the Waterdown to Finch Project, a 12 in. steel pipe was installed to a maximum depth of 70 m below the surface and pulled into place in three sections over a 40 hour period. The crossing spans along a right-of-way that passes under the Hidden Lake Golf Club and a wetland in the environmentally sensitive Southern Ontario region.
"The completion of record-length trenchless projects like this one demonstrate our capabilities for safe, environmentally sound ways of constructing new or replacing existing utility lines," said Gary Ziehr, Vice President, Energy, Michels Canada. "When HDD and other trenchless methods are used to complement traditional open cut utility construction methods, we are able to support our clients in safely delivering needed energy supplies to their customers."
Due to the length of the crossing, Michels Canada deployed a rig on each end of the alignment. Operators used the rigs to drill toward one other and then used gyroscopic survey and steering technology to complete the intersection of the two bore holes. The alignment follows the right-of-way of the original Sarnia pipeline, so the Michels Canada team had to carefully navigate the five horizontal curves along the alignment.
The crew successfully contended with other challenges, including:
Geotechnical formation variables from hard rock to soft, which required multiple tooling designs.
A pilot hole intersection within a karst formation, requiring significant contingency planning, monitoring, and additional resources.
Being located in mixed urban and agricultural areas with significant local traffic, including both recreational and agricultural operations on the roadways.
Projects like this are what have established Michels as one of North America's most accomplished HDD contractors. That experience allowed Michels to train and work safely with local union employees and Indigenous peoples, including those with limited prior HDD experience. The Michels team also worked closely with the project's prime contractor, Somerville Aecon Joint Venture, which provided a well-managed team with safety as a top priority.
Operating safely in the region for many years, Imperial's Sarnia Products Pipeline provides fuel products used by households and businesses across the Greater Toronto and Hamilton Area. The Waterdown to Finch Project is a proactive measure to ensure continued safe and reliable fuels supply, including a significant portion of jet fuel for Toronto Pearson International Airport.