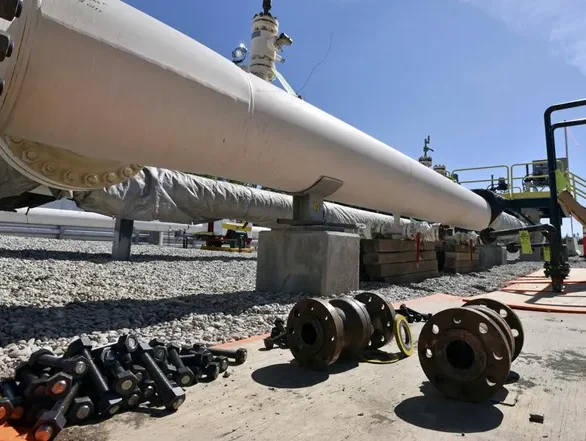 Michigan panel wants details on Great Lakes oil tunnel plan
A Michigan regulatory panel said Thursday that it needs more information about safety risks before it can rule on Enbridge Energy's plan to extend an oil pipeline through a tunnel beneath a waterway linking two of the Great Lakes.
The state Public Service Commission voted 3-0 to seek further details about the potential for explosions and fires involving electrical equipment during construction of the tunnel beneath the Straits of Mackinac.
The commission's approval would be required for Enbridge to replace two existing Line 5 pipes in the straits, which connect Lake Huron and Lake Michigan, with a new segment that would run through the proposed underground tunnel.
"This has been an extensive process," Chairman Dan Scripps said. "We want to make sure that we get it right."
Enbridge and the state of Michigan are mired in legal battles over Line 5. The 69-year-old underground pipeline carries Canadian oil and natural gas liquids used for propane through northern Michigan and Wisconsin to refineries in Sarnia, Ontario.
A 4-mile-long (6.4-kilometer-long) section divides into dual pipes that cross the bottom of the straits.
Enbridge is defying Michigan Gov. Gretchen Whitmer's 2020 order to shut down the line, a move long sought by environmental groups and Native American tribes who fear a rupture would devastate the lakes. The company says the line is in good condition and contends in a federal lawsuit that the Democratic governor doesn't have the jurisdiction to shut it down.