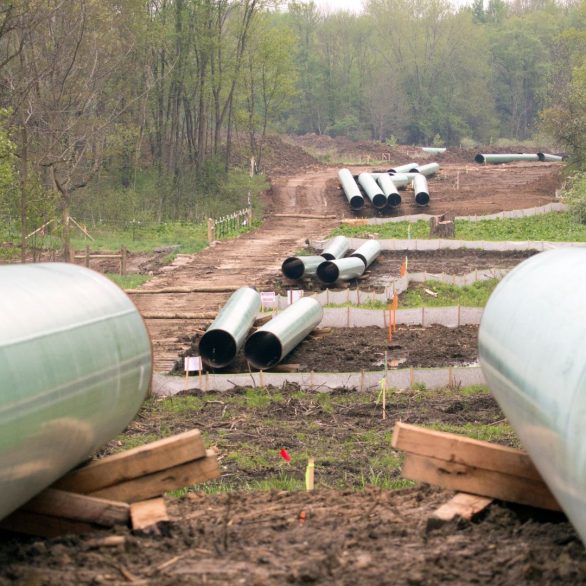 Mountain Valley Pipeline to restart construction
The Biden administration has determined that restarting construction on the Mountain Valley Pipeline won't significantly jeopardise rare fish and other endangered species along its path, clearing a major hurdle that was keeping developers from finishing the project.
The biological opinion from the US Fish and Wildlife Service, made public recently by the Federal Energy Regulatory Commission (FERC), was a necessary precursor to other federal agencies being able to issue permits to restart construction on unfinished portions of the 303-mile proposed pipeline. Equitrans Midstream Corp and NextEra Energy Inc, the joint developers of the project, say it is 94% done.
The bulk of the unfinished portions of the pipeline either cross streams and rivers or go through the Jefferson National Forest in Virginia, and building in those areas requires federal permits. The US Army Corps of Engineers and the US Forest Service, which are required to consult with the Fish and Wildlife Service regarding how projects will impact endangered species, are expected to finalise those approvals as early as this spring.
Patrick Grenter, the 'Beyond Dirty Fuels' Campaign Director for the Sierra Club, which is involved in ongoing litigation challenging the project's approvals, said in a statement that the biological opinion was 'hasty' and ignored concerns for endangered species. A representative for the developers didn't immediately respond to a request for comment.
The latest analysis was needed after the 4th US Circuit Court of Appeals tossed a previous biological opinion in early 2022, finding the government hadn't adequately considered the impacts of the US$6.2 billion project on the candy darter or Roanoke logperch, which are both protected fish under the Endangered Species Act.
FERC, which regulates interstate natural gas pipelines, first issued a certificate of public convenience and necessity for the pipeline in 2017, and in August extended construction deadlines until 2026. That certificate gave the developers eminent domain powers, and allowed them to seek further permits for water crossings and to build through the national forest.