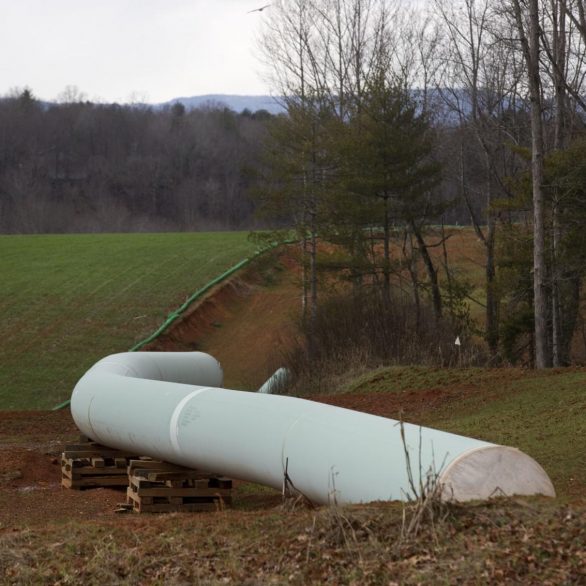 Mountain Valley Says Pipeline Still On Track Despite Issues With Permit Program
The Mountain Valley Pipeline is still targeting a completion date of late this year, a spokeswoman said Friday, despite reports of the suspension of a nationwide program needed to grant a key permit it lacks.
Last week, a federal judge in Montana vacated a permit for the Keystone XL pipeline to cross streams and wetlands in a decision that also applied to other projects, including the controversial natural gas pipeline being built through Southwest Virginia.
The Associated Press reported Thursday that the U.S. Army Corps of Engineers — which approves the permits on a general basis for pipelines, utility lines and other construction work that must cross a water body — has suspended the process in light of the court ruling.
"We are awaiting further developments on the Montana federal court case … to understand any potential impacts on the MVP project," Cox wrote in an email, adding that the company still was aiming to complete work on the 303-mile pipeline by the end of the year.
Mountain Valley was originally slated to be done by late 2018, and delays caused by legal challenges from environmental groups have in large part caused its estimated price to soar from $3.7 billion to as much as $5.5 billion.
"Continued delays will further erode the case for completing the MVP," said Thomas Hadwin, a retired gas and electric utility executive from Waynesboro who opposes the project.
While Mountain Valley officials have said the pipeline is 90% done, "this is probably one of the biggest outstanding issues for them," he said.
Hadwin said it was difficult to say whether the joint venture of five energy companies would abandon the project at this late stage, as opponents hope.
Larry Liebesman, a senior adviser for the water resources consulting firm Dawson & Associates in Washington, D.C., said he was not surprised to learn of the corps' suspension of its permitting process for stream and wetland crossings.
"My read of it is they felt it was important to abide by the court order, which in effect was a nationwide injunction against use of the Nationwide Permit," he said.
It was not clear Friday how long the suspension might last. A spokesman for the Army Corps referred questions to a counterpart at the U.S. Justice Department, who had not responded by 6 p.m. Friday.
Environmentalists have long decried the Nationwide Permit process, which takes a blanket approach for projects the corps determines will not cause significant harm to natural resources. An individual analysis of each stream crossing is needed to fully evaluate a pipeline's effects, they say.
"Permit applications for projects like MVP would — and should — fail if project-wide impacts were more thoroughly examined," said Russell Chisholm, co-chair of the anti-pipeline group Protect Our Water, Heritage, Rights.
Over the past two years, Mountain Valley has been cited repeatedly by regulators in Virginia and West Virginia for noncompliance with measures to control erosion and sedimentation. Muddy runoff from construction sites along steep mountain slopes has carried sediment into nearby streams.
Mountain Valley has blamed much of the problem on heavy rain in 2018.