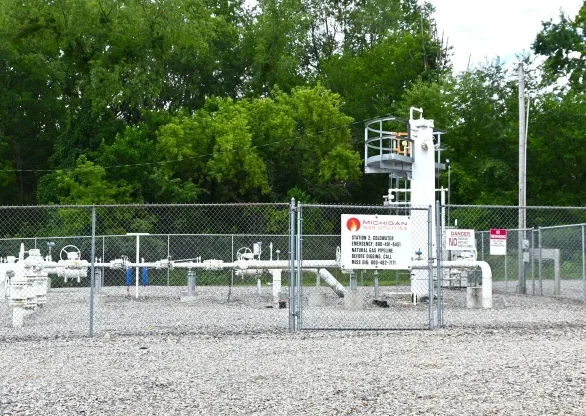 New Natural Gas Pipeline Approved Between Marshall and Coldwater
LANSING — Michigan Gas Utilities Corp. will construct a replacement natural gas 12-inch pipeline along 20 miles in Branch and Calhoun counties from Marshall to Coldwater.
Last week, the Michigan Public Service Commission approved a settlement agreement to replace an aging 10-inch MGU pipeline.
The MPSC found "by replacing the existing 10-inch pipeline with the 12-inch pipeline, MGU has the ability to reliably meet its residential and commercial customers' future growth needs in and around Branch, Calhoun, St. Joseph, Hillsdale, and Lenawee Counties."
The order found construction "will have no significant adverse impact on the environment" and "is consistent with the promotion of the public health, safety, and welfare."
The new line operates at a maximum of 720 psi pressure.
Much of the route parallels the current line through the agriculture area east of Old U.S. 27 in Calhoun County, shifting west of the highway south of Tekonsha in Branch County. MGU must bury the line a minimum of five feet in the agricultural land.
The existing 20 miles of 10-inch steel will be segmented into four smaller sections and derated to a medium-pressure capacity to continue serving the current distribution systems in the area.
With lower pressure, MGU will eliminate 10 regulation above-ground structures on the old-line public right-of-way, reducing hazards, according to engineer Tyler Miller.
The existing 1952 pipeline used now outdated wax coating techniques with welds not up to current high-pressure standards for transmission pipe. Newer safety monitoring on the new line won't work on the older line.
MGU "is of the belief that replacing the MCP is critical to providing safe, reliable and cost-efficient natural gas service to its customers," it said in its testimony.
The company looked at three proposed route alternatives. All presented annual maintenance difficulties and required intense construction through dense wetlands and waterways. All would disrupt the golf course south of Marshall.
MGU and the commission agreed to replace the line close to the existing line impacts fewer "new" property owners unfamiliar with a pipeline. The chosen route limits the amount of pipeline located in the road right-of-way.
MGU said during an outage of the interstate pipelines or an emergency, the new line could operate flowing south to north. MGU would pump gas to its Partello storage field southeast of Olivet.
That former gas field can hold up to 2.1 billion cubic feet of natural gas for customer use.