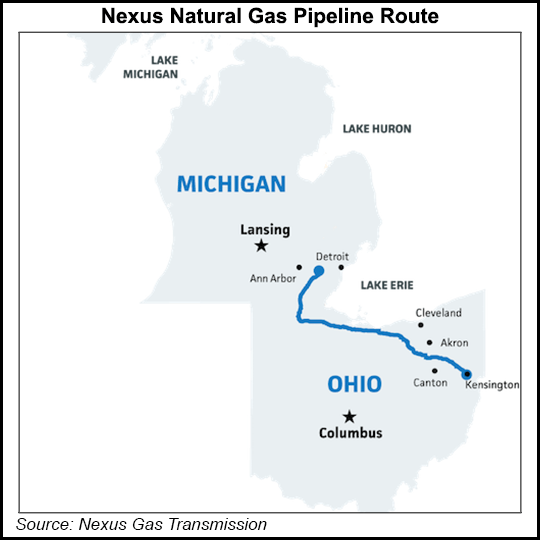 Nexus Natural Gas Pipeline Exports to Canada Upheld
A federal appeals court has upheld FERC's approval of the Appalachia-to-Midwest Nexus Gas Transmission pipeline, siding with the Commission's assessment of the public benefits of exported gas as part of its certificate decision.
Responding to a challenge filed by the City of Oberlin, OH, the U.S. Court of Appeals for the District of Columbia Circuit (DC Circuit) ruled Friday (July 8) that the Federal Energy Regulatory Commission acted appropriately under federal law when it granted a certificate to Nexus.
The city had argued in part that FERC should not have considered the demand for molecules bound for export when assessing the public need for the Nexus project.
The court disagreed, finding FERC's defense of its decision-making process reasonable in the case of Nexus. The 1.5 Bcf/d, 256-mile system is designed to connect Appalachian Basin supplies to markets in the Midwest, including the Dawn Hub in Ontario, Canada.
It was reasonable for FERC to deem exported natural gas to a free trade nation such as Canada in the public interest, the appeals court ruled.
Further, the court backed FERC's determination that additional capacity for export to the Dawn Hub would have domestic benefits, including by making additional capacity available for gas to be "transported through Canada and imported back into New York and New England."
The DC Circuit's ruling might influence FERC's decision-making on future interstate natural gas pipeline projects for which export demand is a consideration, analysts at ClearView Energy Partners LLC noted.
The Nexus decision was made under FERC's 1999 policy statement. The Commission has been moving to update that policy, though the Democratic-led FERC has faced pushback on some of its proposed revisions.
"By our read, the February draft policy statement did not articulate the Commission's policy regarding the eminent domain implications of pipelines that also deliver gas to free-trade agreement destinations," the ClearView analysts said. "However, with the court ruling in hand, it is possible that the Commission may add the processes it relied on in Nexus to the final version. In the alternative, FERC could leave it for a case-by-case analysis."