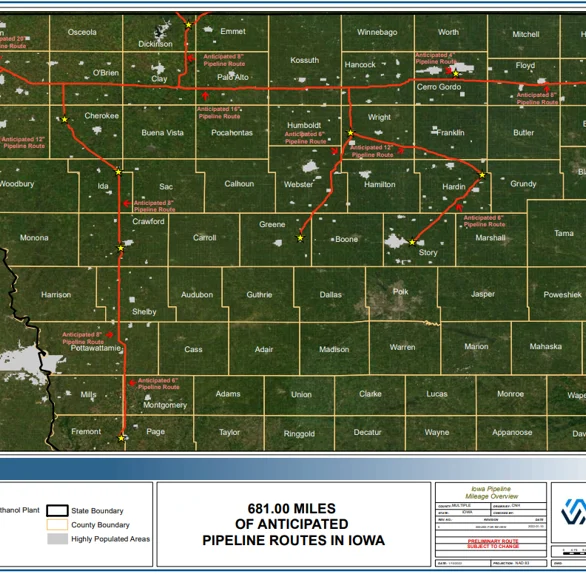 Page County board gets update on Summit carbon pipeline
There's still a good amount of ground for carbon dioxide pipeline representatives to cover to secure 100% voluntary land easements for Summit Carbon Solution's five-state pipeline.
Meeting in regular session Tuesday morning, the Page County Board of Supervisors received an update from Tyler Hanson of Turnkey Solutions on Summit's proposed Midwest Carbon Express pipeline. The project would capture carbon emissions from over 30 participating ethanol plants to an underground storage facility near Bismarck, North Dakota. Hanson informed the board that of the 685 miles of pipeline in Iowa, just over 30% of the land has been acquired through voluntary easements, with a smaller number for the seven miles of anticipated pipe in Page County.
"Approximately, 32% of all easements have been acquired," said Hanson. "In Page County with approximately seven miles total pipeline, approximately 22% of all easements have been acquired."
While Hanson says the hope is to acquire as much as possible through easements, Summit's permit application to the Iowa Utilities Board submitted in January did include requesting the ability to use eminent domain — or the right to seize land for public use. Page County was among several counties around the state sending a letter to the IUB stating their objection to eminent domain.
Hanson says the investment in Page County is over $6 million as the pipeline — which is expected to assist the ethanol industry in selling to low carbon markets — works towards Green Plains Shenandoah in Fremont County.
"Based on the physical pipeline being installed in the ground and auxiliary facilities — that's approximately seven miles in total with a six inch pipeline — that total investment is around $6.4 million," said Hanson. "The estimated new property tax after that project goes into service is around $245,000 a year based on current tax statutes and regulations."
With the significant amount of ground to cover, Hanson says the plan is to provide at least quarterly updates to the impacted county boards.
"We have some ground to cover of course with local county permits and continued work to acquire easements via voluntary acquisition," said Hanson. "So on a quarterly basis, we'll come and get on the agenda just like this and take your questions. If there's significant items that need faster updates, we'll come and talk to you guys."
IUB officials have indicated any action or public hearing on Summit's permit application is not expected before February 2023. Summit officials expect pipeline construction to begin in summer 2023, pending approval.