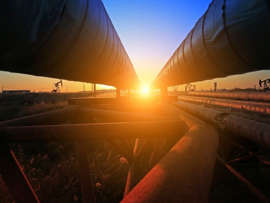 PennEast Cancels Pipeline Project, Murphy Welcomes Decision
PennEast Pipeline on Monday said it would stop developing the proposed pipeline from Pennsylvania to New Jersey due to a lack of permits from the Garden State.
PennEast was planning to build a 120-mile natural gas pipeline from Pennsylvania to New Jersey, cutting through Hunterdon and Mercer Counties. In fact, the company received a 5-4 favorable decision from the Supreme Court in June, upholding its authority to seize New Jersey land through eminent domain.
But on Monday, the company said it was canceling the pipeline after it failed to receive required permits from new Jersey including water quality certification, reported Reuters.com.
New Jersey Gov. Phil Murphy welcomed the decision.
"For the last four years, my administration fought back against the unnecessary construction of PennEast Pipeline, which was wrong for New Jersey, and would have destroyed acres of New jersey's conserved land and threatened species," Murphy said in a statement.
"I welcome today's decision by PennEast to cease development on this project and am committed to protecting our state's natural resources and building a clean energy future that works for all New Jerseyans. I will never back down from a fight to protect New Jersey's best interests."
Rep. Bonnie Watson Coleman (D- Mercer) and Tom Malinowski (D-Hunterdon) introduced a bill to improve the review process of proposed pipeline projects in March this year.
On Monday, Watson Coleman said she was grateful for the hard work done by advocacy groups and residents to fight the "unwanted and unnecessary pipeline." Calling it a "great win," Watson Coleman said the work was "not done."
"Our work is not done. I'm committed to fighting for comprehensive oversight by FERC. We must have accountability when it comes to proposed projects and take a cumulative approach to both need and environmental impact. Make no mistake though, today is a great win," she said on Twitter.
Malinowski called the latest development a "huge win for long-suffering landowners, for the environment, and for everyone who worked to block the PennEast pipeline."
"But we're not done yet – we must reform a system that allowed this economically unnecessary project to be approved in the first place."
NJ's Acting Attorney General, Andrew Bruck also released a statement on Monday, calling the decision a "great win for New Jersey." He said the administration fought the pipeline to the Supreme Court as it was "unnecessary, dangerous and illegal."