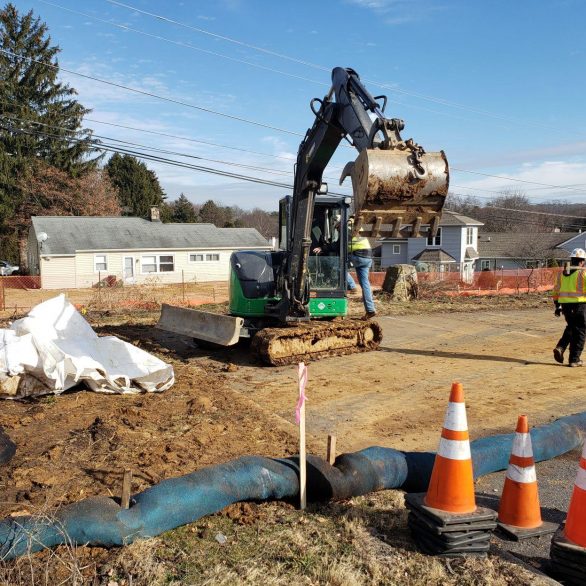 Pipeline Basic Maintenance Ongoing
WEST GOSHEN — The answer is up in the air on whether a waiver request by Sunoco/Energy Transfer was for full resumption of construction, or just basic maintenance, as is allowed, of the Sunoco Mariner East Pipeline.
Sunoco/ET Spokesperson Lisa Coleman directed questions on Tuesday concerning a response to the Department of Community and Economic Development "which handles the requests." The DCED did not respond to a phone request for a statement.
Mariner East 2 will move hundreds of thousands of barrels of volatile liquid gases from the state's Marcellus Shale regions to a facility in Marcus Hook, where they will be stored and eventually shipped mostly to overseas markets. The pipeline cuts 23 miles through the heart of Chester County and another 11 miles through western Delaware County. The multi-billion dollar project has sparked intense opposition from the community.
Coleman emailed the following statement, Tuesday, prior to the Daily Local News request for information on the waiver:
"We have received confirmation from the Commonwealth of Pennsylvania that we may continue to monitor and maintain the rights-of-way and work sites associated with our construction projects in Pennsylvania, including Mariner East 2. In addition, we may secure, stabilize and move equipment at these sites under the enhanced safety measures Governor Wolf implemented on March 19. We are in the process of resuming these activities while adhering to the protocols outlined in the order to ensure the continued safety of our workers and the surrounding communities."
Food & Water Action Pennsylvania Organizing Manager Megan McDonough issued the following statement:
"Construction on the Mariner East 2 Pipeline is in no way an essential activity, and Sunoco must send workers home with compensation in order to protect them and their families and halt the spread of coronavirus. While Sunoco argues that suspension of construction increases 'risks to safety and/or the environment,' we know it's the other way around: pipeline construction is simply too dangerous to allow during this period of heightened caution and uncertainty.
"Our already-stressed health care and emergency response preparedness systems would be further strained by the kind of disaster that could easily arise if construction continues. Sunoco/Energy Transfer has one of the highest rates of accidents of any pipeline company. It is reckless to leave communities exposed to this kind of danger, and reckless to waste our precious resources on the disasters that could arise from non-essential construction right now.
"Pennsylvania's families are making great sacrifices to quell the spread of COVID-19 right now. The governor must honor these sacrifices by keeping construction on the Mariner East 2 Pipeline shut down."