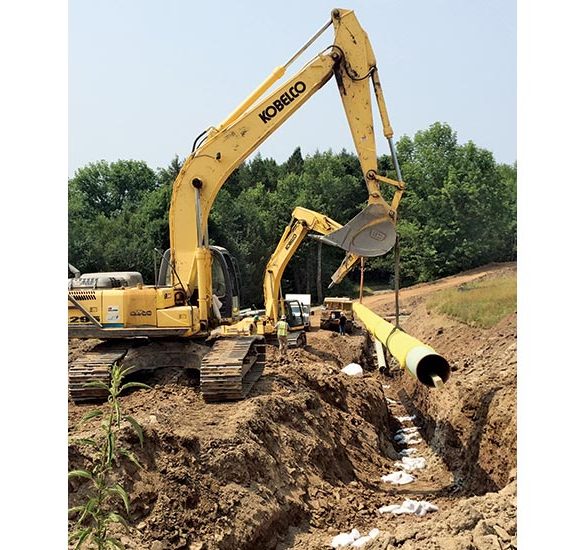 Pipeline Route Disputes Are Poised for Supreme Court Decision
The battle over use of federal eminent domain power by natural-gas pipeline developers to claim state land for project routes reached two U.S. appellate courts, as builders and opponents square off over seizure rights.
Observers expect the U.S. Supreme Court may have to rule on case issues, if justices opt to do so, which could affect how lines are sited or whether they get built at all, particularly as opposition grows and more projects are questioned.
In one key case, PennEast Co., developer of a planned $1-billion, 116-mile pipeline to carry fracked gas from Pennsylvania across New Jersey, mounted a new two-pronged attack to protect its interest.
But the firm on Nov. 5 lost a bid to have the full Philadelphia federal appeals court reconsider its September three-judge panel ruling that a private entity does not have federal eminent domain authority to condemn state property to build, operate and maintain a pipeline. The court declined to do so.
A PennEast spokeswoman did not confirm its intent to seek high court review, but says the firm remains "committed" to the project and is evaluating options. These could include rerouting through non-state lands in New Jersey, which observers  say could be difficult.
The firm still has in place a request to the Federal Energy Regulatory Commission to counter the court's decisions. FERC issued a certificate of public need last year that gives PennEast eminent domain power to seize land needed for the line.
The appeals court said a state has sovereign immunity over its own property, and said other courts, including the Supreme Court, have expressed doubt that the Constitution allows the U.S. to delegate to private entities an exemption from state sovereign immunity.
PennEast had argued that under the U.S. Natural Gas Act, eminent domain authority does apply to property in which states hold an interest.
There is little, if any, court precedent, on this kind of Constitutional challenge related to state land seizure..
PennEast has asked FERC to issue an order holding that Congress authorized the U.S. government to extend an immunity exemption to companies holding certificates of need.
"FERC is the agency that Congress charged with administering the … Act; it is important that FERC provide its considered views,'' said the PennEast spokeswoman.
Project Approval 'Do-Over'?
Three New Jersey agencies disagree on the private seizure. "The company has come to FERC for a do-over," they told the federal agency in an Oct. 22 protest filing.
PennEast would need eminent domain for 49 properties, including 91 acres of wetlands, says Jeff Tittel, Sierra Club New Jersey chapter director. The firm seeks to seize hundreds of acres of preserved state open space, he adds. Sierra Club backs a state moratorium on all fossil-fuel projects.
PennEast's petition for an appellate court rehearing was based on the firm's contention that the earlier decision against condemnation actions by FERC certificate holders, under the natural gas act, "upends 70 years of well-established practice and threatens immediate disruption of the natural gas industry."
The law has long been understood to allow private entities to condemn rights of way, including properties in which states have an interest, PennEast said, claiming no interstate pipeline of any significant length can be built without crossing some state property, from river bottoms to private lands with state easements.
"Absent eminent domain authority, a single landowner can veto a federally approved pipeline," PennEast said.
In a supporting filing, the American Gas Association said that potential outcome casts doubt on the reliability of federal certification to build interstate natural-gas infrastructure. The American Public Gas Association said that while the court speculated there are work-arounds for PennEast, the options are unlikely since New Jersey appears to be making a political stand against fossil fuels.
Energy sector analyst Paul Patterson at Glenrock Associates sees the legal battle "as another significant hurdle for pipelines in states unreceptive to new [fossil fuel] projects that if upheld, could be a problem."
Legal observers see more potential for high court review also since a Columbia Gas Transmission project, set to ship gas from Pennsylvania to West Virginia, now has appealed an August district court rejection of its FERC seizure power for a state parcel in Maryland.
Constitutional issues are also being raised by opponents over planned pipelines that will carry product beyond U.S. borders and to domestic terminals for export abroad.
"It would not be surprising if [court] certiorari is granted, as this is a critical constitutional law matter that could have an expansive impact … for the energy industry," says Michael W. Aceto, an attorney at Goldberg Segalla LLP.