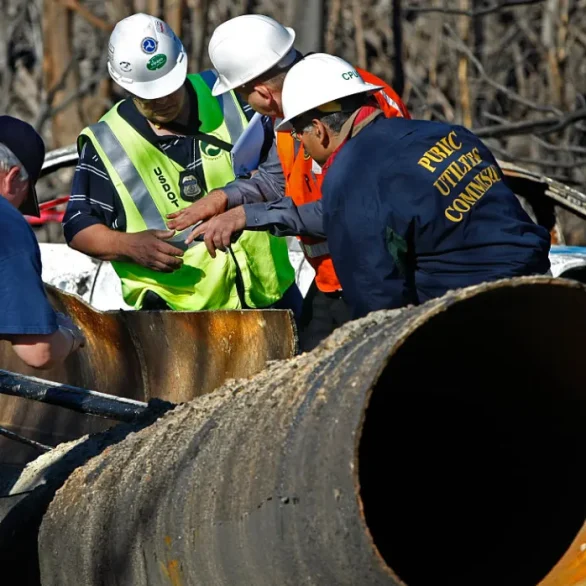 Pipeline safety agency with big task lacks key resources
The national agency tasked with the safety of more than 3 million miles of pipelines, long considered understaffed, lacks an official leader as it faces growing pressure to adhere to its primary responsibilities, write new regulations and follow directions from Congress.
More than a year and a half into office, President Joe Biden has not nominated anyone to be administrator of the Pipeline and Hazardous Materials Safety Administration, or PHMSA, part of the Transportation Department.
PHMSA is responsible for securing the 3.3 million miles of pipelines that snake across the U.S. and limiting environmental damage from crude oil, gas, and other substances carried in that labyrinthine network. It dispatches inspectors to the field, writes regulations, and fines operators that break its rules.
"It's an agency that often doesn't get that much scrutiny or attention," Erin Murphy, an Environmental Defense Fund attorney, said by phone. "It's really a key agency in a lot of ways." Without a Senate-confirmed administrator, PHMSA's agenda and work are diminished, Murphy said. "I would love to see leadership in place."
A White House spokesman did not respond to requests for comment about the status of the nomination. A representative for Sen. Maria Cantwell, D-Wash., chairwoman of the Senate Commerce, Science and Transportation Committee, said committee Democrats were not sure why the nomination has been delayed, and a spokesperson for Sen. Roger Wicker of Mississippi, the top Republican on the panel, did not provide an on-the-record comment.
The void at PHMSA's helm comes as the agency is unveiling new regulations for pipeline operators, completing a series of directions Congress demanded in the fiscal 2021 appropriations law, administering a $200 million grant program from the infrastructure law, and preparing for new varieties of pipeline projects.
That new construction may get funding from the infrastructure law and the new climate, health care, and tax law, said Bill Caram, executive director of the Pipeline Safety Trust, a nonprofit advocacy group founded in the aftermath of the 1999 explosion of a gasoline pipeline in Bellingham, Wash.
Piping carbon dioxide
A relatively fledgling process called carbon capture and sequestration aims to trap greenhouse gases at an industrial site before they enter the atmosphere so they can be moved and stored elsewhere. That system will require the build-out of pipelines specific to carbon dioxide, Caram said, adding that the also-nascent hydrogen industry is developing pipelines, too.
"All of a sudden, we now have the prospect of carbon dioxide pipelines for carbon capture and sequestration and hydrogen pipelines," Caram said in an interview. "You capture the CO2, and you're going to sequester it," he said, using the shorthand for carbon dioxide. "Very rarely are those two places — where you're capturing it and where you're sequestering it — in the same place. So it's going to involve a lot of pipelines."
The climate, health care, and tax law created a 10-year incentive for hydrogen production and extended tax credits for carbon capture projects.
Beyond new tax credits, the legislation included in that fiscal 2021 spending law to authorize the federal pipeline safety program through fiscal 2023 directed the agency to complete nine new rules. Four are complete, and the other five are scheduled to be finished next year, according to an agency summary.
The bill gave PHMSA authority to regulate methane emissions from pipelines, imposed stricter standards for pipeline leaks, and required that all leaks hazardous to humans or the environment be repaired. And in response to a 2018 pipeline explosion in the Merrimack Valley of Massachusetts, the law mandates new safety rules for gas distribution systems.
Industry groups have challenged most of the rules PHMSA has finalized during the Biden administration, including a rule requiring pipeline owners and operators to file safety reports on what are called "gathering" pipelines, typically used to move gas from a wellhead to interstate transmission lines.
Announcing the rule in November, PHMSA said it would apply safety regulations to tens of thousands of miles of pipelines for the first time. "That has not historically been the case," Murphy said. That rule has been in the works for 10 years, since the Obama administration first began to work on it.
An industry group for pipeline companies, the GPA Midstream Association, and the American Petroleum Institute, which represents oil and gas companies, filed a lawsuit this year in a federal court in Washington, D.C., to challenge that rule.
Representatives of GPA did not respond to a request for comment, and an API spokesperson referred CQ Roll Call to early court filings in the case.
Tristan Brown, a former staffer to Sens. Gary Peters, D-Mich., and Amy Klobuchar, D-Minn., is the deputy administrator at the agency, the highest-ranking official there.
"In the middle of fighting off all these industry petitions on the rules they've got out, it is going to be really difficult for them to do that with current staffing levels," Caram said.
Few inspectors
To enforce its rules and regulate the industry, PHMSA has inspectors and engineers who examine pipelines in the field. But much of the agency's oversight work falls to state-level inspectors, who comprise about three-quarters of inspectors. As of December, the agency had 285 full-time inspectors, including 146 pipeline safety inspectors.
"PHMSA faces a manpower issue," Howard Elliott, the agency administrator during the Trump administration, said in 2018. The agency cannot possibly oversee all 3.3 million miles of pipelines on its own, he said. "In fact, PHMSA makes no attempt to do so. Most actual safety inspections are performed by our state partners."
The administration requested $292 million for fiscal 2023 for the agency, a roughly 5 percent increase from the $278 million in spending levels of the two previous budgetary years. Senate legislation would provide the agency with $293 million, while the House version would provide $288 million.
The White House released a plan in November 2021 to cut methane emissions. The authors identified the EPA, the Interior and Agriculture departments, and PHMSA as linchpins in the federal effort to curb methane, which is more than 80 times more potent, over 20 years, in warming the planet than carbon dioxide.
"I would think with that being such a high priority administration that we would have officially nominated and confirmed administrator of the agency," Caram said of federal methane plans. "It is unusual to be this long into an administration and not have one."
Beyond leadership, the agency has other limitations.
In an unusual arrangement for a federal agency or department, PHMSA must bring rules it proposes before two advisory committees — one about pipelines that carry gas, the other about pipelines that carry liquids — before they are finalized, Murphy said.
No new technology
It also is restrained by cost-benefit limitations Congress placed in law due to legislative efforts from House Republicans in the 1990s, and federal law binds PHMSA from writing rules that direct industry to use new technology on old hardware.
"If there's an amazing new valve that comes out that would save communities from a natural gas pipeline explosion," Caram said, PHMSA is "forbidden to require operators from going into the existing pipe and installing those."
Safety standards of pipelines vary based on when the structures were built. Newer pipelines are typically regulated with newer and more stringent rules, while older lines have less stringent requirements, said Sara Gosman, a professor at the University of Arkansas' law school.
"If you are building a new pipeline, if you are fixing a pipeline and putting in a new portion of that pipeline," updated standards would apply, said Gosman, a board member of Pipeline Safety Trust. "But otherwise, we freeze time, and whatever the standard was at the time is the standard that applies."
In recent fights over the Keystone XL, Dakota Access, and other pipelines — including the Byhalia project, which was going to run through Memphis before the builder canceled construction plans last year after local activists opposed it — the public has shown its interest in pipeline projects.
Why that interest hasn't translated into more interest in PHMSA is puzzling, Gosman said. "You would think that that would translate into more resources and more focus on an agency like PHMSA," she said. "Yet that doesn't seem to be happening."