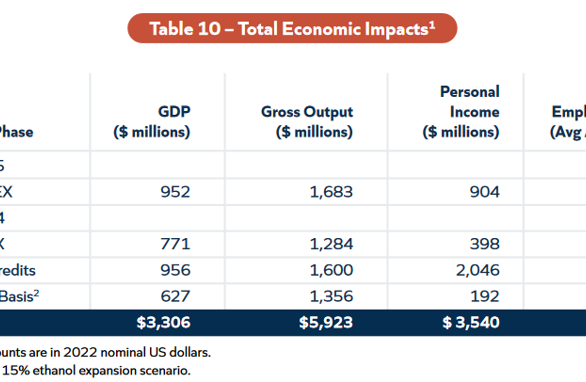 Study reveals new data on how Summit Carbon, Navigator pipelines would impact SD's economy
In the ongoing dialogue around carbon dioxide pipelines, companies like Summit Carbon Solutions and Navigator CO2 Ventures often tout how South Dakota could rake in tons of money from carbon sequestration. A new study from an independent group is substantiating their claim.
On Monday, Dakota Institute, an economic research group based in Sioux Falls, released "Economic Impacts of CO2 Pipelines in South Dakota." The 42-page report estimates how CO2 pipelines proposed by Summit Carbon and Navigation would impact South Dakota's economy.
Summit Carbon is planning to build its $4.5 billion Midwest Carbon Express pipeline across five states, including a 477-mile route through northeastern and eastern South Dakota. Navigator's $3.4 billion Heartland Greenway pipeline would cross 361 miles of land in the southeastern corner of the state along its roughly 1352-mile, six-state route.
Among the key findings of the report are indications the pipelines could bring billions of dollars of revenue to the state, while farmers stand to see an increase in corn prices from 2024 to 2034.
The logic behind these findings is that ethanol producers would be able to gain substantial increases in revenue if they adopt carbon sequestration processes. Carbon dioxide pipelines would facilitate the transportation of greenhouse gas from biofuel plants across the Midwest, including South Dakota, to sequestration sites in North Dakota and Illinois.
What do the numbers say?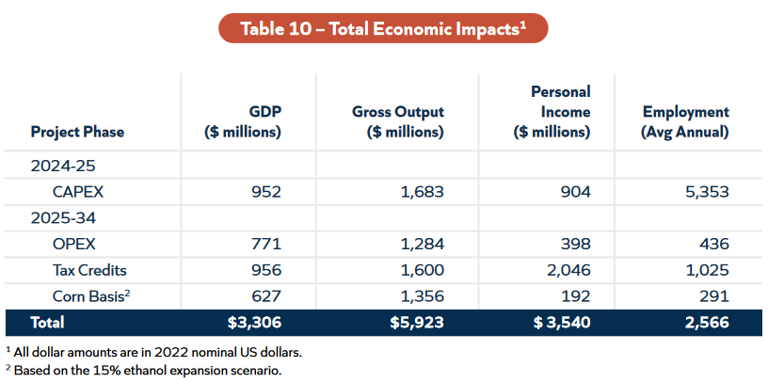 According to the study, South Dakota would see about $3.30 billion in gross domestic product, or the market value of finished goods and services, and about $5.92 billion in gross output over the ten years.
To put these numbers in perspective, South Dakota's largest industry, agriculture, and forestry, represents 21% of the state's total GDP at $11.68 billion ― forestry alone is 2% of this figure ― according to the state's latest study on ag's economic impact. If built to completion, carbon sequestration would increase GDP in the industry by 28% over a 10-year period.
The state's total output (sales) from agriculture and forestry, as well, would also increase by 18% in that same period.
"It's a really interesting project to kind of look at these pipelines and what their potential kind of impact could be," Jared McEntaffer, the author of the study, told Argus Leader on Monday. "I think we found that the pipelines could have a pretty large and significant economic impact in the state. Our job isn't to be advocates for that, though."
A little over a quarter of the gross output estimate stems from federal tax credits. The Biden administration's Inflation Reduction Act of 2022 introduced a 45Z New Clean Fuel Production Credit as a lucrative incentive for ethanol producers to adopt carbon capture and sequestration processes.
45Z credits are more valuable than the already existing and similar 45Q credit. Whereas 45Q credits offer about 24 cents per gallon of ethanol for sequestering carbon dioxide, 45Z credits up to $1 and $1.75 per gallon of ethanol-based transportation and aviation fuel, respectively.
According to the study, South Dakota is the fourth-leading state in the U.S. in terms of ethanol production, and of the 13 ethanol plants currently slated to connect with either Summit Carbon or Navigator's pipeline, 1.25 million gallons could be produced annually and ‭about 3.39 million metric‬ tons of carbon dioxide could be captured.
"There's no bigger way to [lower] your carbon score than carbon sequestration. It's a huge stepping stone to be able to accomplish, you know, a very low carbon fuel," Walt Wendland, CEO of Onida-based Ringneck Energy, told Argus Leader on Monday.
However, 45Z credits are only available between 2025 and 2027, which would require Summit and Navigator's pipeline to be constructed and operational by then.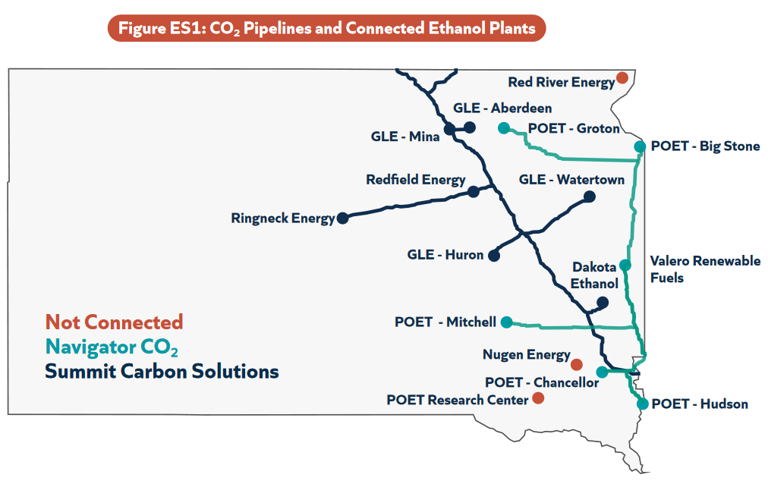 Summit Carbon, which plans to run about 477 miles of pipeline through South Dakota, experienced a setback in January, when the state's Public Utilities Commission unanimously voted to move permit hearings on the pipeline from a springtime evidentiary hearing and June 15 decision to a Sept. 11 evidentiary hearing and a Nov. 15 final deadline.
Such delays, Summit Carbon's lawyers acknowledged before the January vote, can be "fatal" to projects like the company's Midwest Carbon Express pipeline.
"On their own, the 45Q and 45Z tax credits would likely be insufficient to induce large-scale CCS adoption by individual plants in the face of prohibitively high CO2 transportation costs," the study reads. "The key to successfully implementing CCS projects in the Midwest ethanol industry are large pipeline networks that lower CO2 transportation costs."
The average ethanol plant stands to gain about $40 million in 45Z credits and $22 million in 45Q credits in annual revenue between 2025 and 2034. In terms of net value, however, operating expenses and pipeline transportation costs would effectively halve the potential value of the credits.
CO2 pipelines could sustain corn prices for farmers after a rough first year
Farmers, too, can benefit from an improved corn basis, the study posits.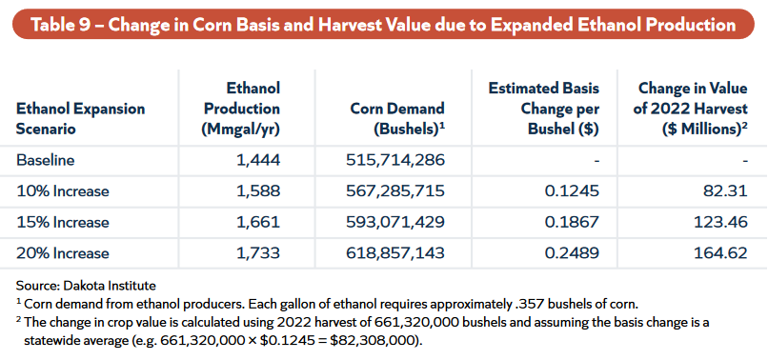 The study makes the assertion the 45Q and 45Z tax credits will increase demand for corn from ethanol producers. To that end, the Dakota Institute devised three scenarios in which ethanol production rises by 10%, 15%, and 20%.
Following the 15% expansion scenario, the study says the state's ethanol industry would boost its anticipated output of corn ethanol from about 1.4 billion to 1.67 billion gallons per year.
This would create a demand, the study continues, of about 77 million bushels of corn in the local market and therefore drive up the average corn basis by nearly 19 cents per bushel after five years.
"This is going to help us more closely match up the increase in the yield curve to the demand from ethanol because we're losing a lot of demand in other sectors," Wendland said. "It seems like Brazil's, you know, taking the market away from us. We're not getting along with China. So they'd rather buy it from somebody [else]. So we got to put something in place to be able to balance supply and demand."
The study continues that this would raise the value of corn production in the state by $123.5 million and up to $938.3 million over the 10-year period.
McEntaffer, who is also CEO of the Dakota Institute, clarified the relative swell to farmers' wallets is fixed on the 2022 South Dakota harvest results and does not take into account certain factors like future harvest yields or long-term climate impacts.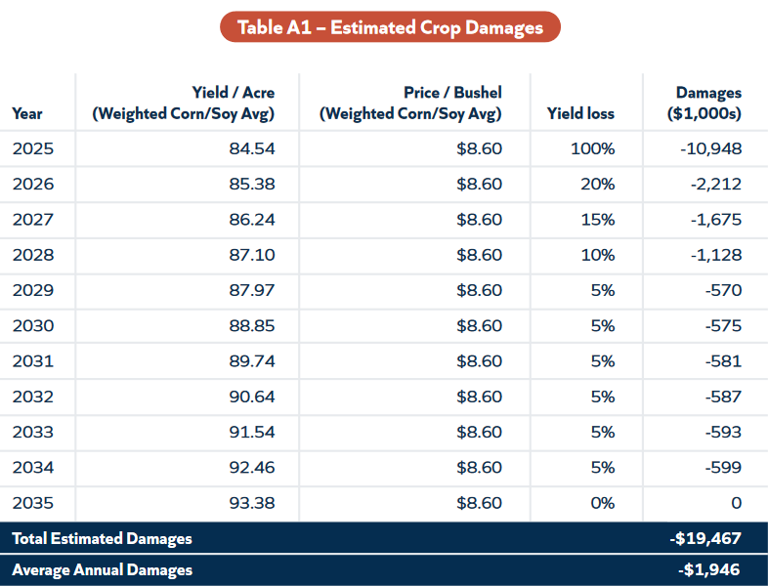 However, the pipelines will have a measured negative effect on crop yields over the next decade, the study notes. In the first year alone, farmland crossed by a pipeline will see a 100% yield loss, accounting for more than $10 million in damages to farm producers. Over the 10-year span, affected farmlands will see related yield losses decrease, but an estimated $19.47 million in damages is anticipated.
What's revealed ― and concealed ― about SCS and Navigator's pipelines?
There are some data points that reveal new or little-known information about the proposed pipeline system.
First, the study provides a timeline for Summit Carbon and Navigator pipelines', which are currently in the pre-construction stage. The study indicates the companies plan to begin construction in 2024 but will only become operational by the latter half of 2025. This means they would only be able to take full advantage of the more desirable 45Z credits for 36 months instead of two full years.
As part of the study, Summit Carbon and Navigator shared a "good faith" estimate for property tax expenses as part of their combined operating expense budget of $82.8 million. The companies expect to pay nearly $19.7 million in annual property taxes to municipalities once the pipelines are operational. Additionally, electricity costs, accounting for nearly $38.8 million, made up the majority of their operating costs.
Additionally, individual contracts between the two carbon companies and applicable ethanol plants were not shared with the Dakota Institute, obscuring the relationship between the two industries. What this means is that some ethanol plants' capture and pipeline transportation costs, which reduce the potential value of their tax credits, may vary to an unknown degree.
Wendland declined to comment on some of the specifics of Ringneck Energy's relationship with Summit Carbon, but he did say differences in business structures "are so, so vast between the two companies."
"I can share that the relationship we have with Summit is a very good relationship. You know, they didn't require capital to help them build the plant," Wendland said. "Summit's been more closely related to the farmer-owned plants and the private plants … where Navigator is more involved with the oil companies and the pipeline companies, so, in general, I've always felt that that Summit's a little more farmer-friendly."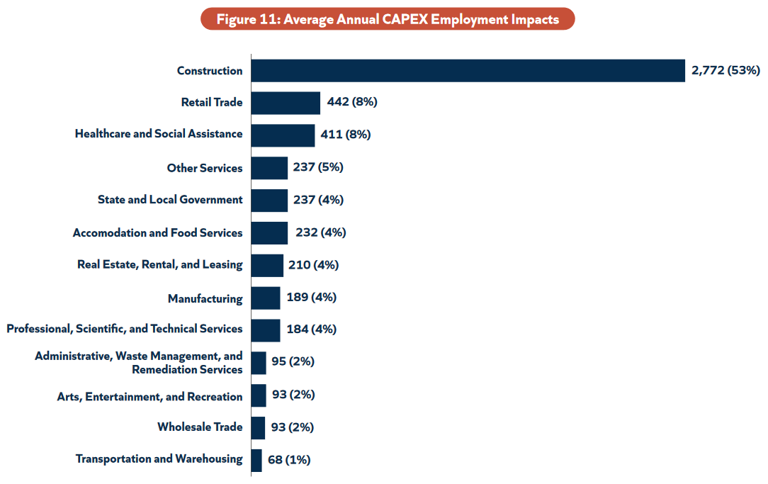 Dakota Institute's report was also unable to determine how many local workers will be employed during the project. The study indicated the CO2 pipelines will support the creation of over 7,000 jobs during the 10-year span. The construction phase in particular, which will take place in 2024 and 2025, will be responsible for supporting 2,772 construction jobs annually.