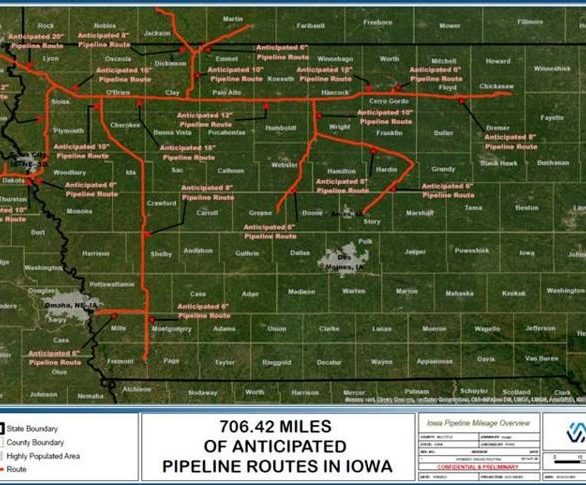 Summit Carbon Moving Forward With Proposed Carbon Dioxide Pipeline
While landowner meetings have passed, conversations with those landowners are just beginning for a proposed carbon dioxide pipeline.
Summit Carbon Solutions, one of two companies with a proposed five-state CO2 pipeline, has completed over 30 county landowner meetings required by the Iowa Utilities Board but has just now begun the process of initiating conversations with landowners impacted by the pipeline. While environmentalists and some landowners have given backlash, public relations representative Quinn Slaven says discussions with landowners have also revealed several in favor.
"I think a lot of people, especially corn growers, are very excited about this project and are excited to be a part of it, mainly because of the benefits that are offered to the ethanol industry," Slaven said. "This is an opportunity to bolster an industry that consumes nearly half of our nations corn crop, and they're excited this is an opportunity to ensure they have a long term market for their corn."
Slaven says the company currently hopes to begin construction in 2023, with operations starting in 2024 after working through landowner discussions in Iowa, Minnesota, North Dakota, South Dakota, and Nebraska.
Crop and land damage has been a hot topic between those for and against the pipeline with the line running through agricultural lands. However, Slaven says Summit is prepared to compensate farmers for crop damages.
"We are offering, what I perceive as fair crop damage compensation, and if there is any damage done to the land, we are responsible for that," Slaven said. "So we're going to come back and compensate fairly for that and fix whatever we need to fix. We're hoping to do everything that we can on the front end to minimize the impact of the land, and minimize the potential crop loss and invasiveness to people's property."
Slaven says Summit intends to pay upfront for 100% of crop damages for the first year, 80% for the second, and 60% for the third year after construction.
At this point in the process, Slaven is still just asking people to learn more about the details of the project before making final judgments.
"I think a lot of people would be surprised to learn some of the details of this project as far as what we can do in terms of negotiation, what we can offer, and how we can work with landowners," Slaven said. "Say if we need to re-route it slightly to accommodate for future plans for building, we're happy to have those conversations. So, I think the first step is to just have those conversations."
As far as safety concerns go, Slaven says safety is a top priority for Summit during the construction and operation of the pipeline.