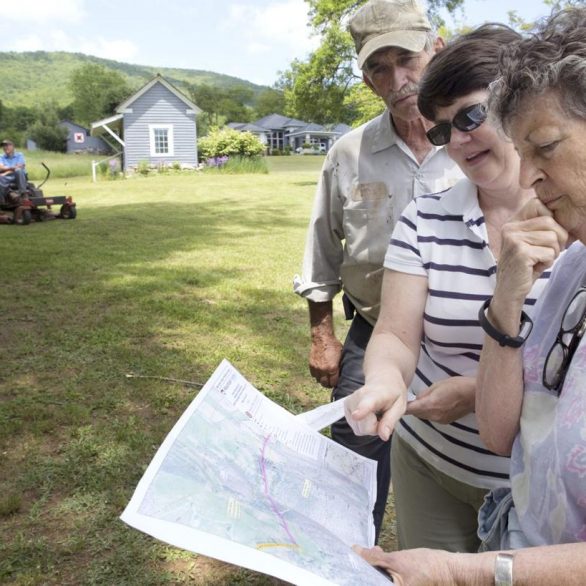 Supreme Court Denies Appeal of Eminent Domain for Mountain Valley Pipeline
The U.S. Supreme Court said Monday it will not hear an appeal from a group of Southwest Virginia landowners whose property was taken, before they were paid, for a controversial natural gas pipeline.
An order filed on the court's first day of a new term gave no reason why it declined to consider the case, which involves land seized by eminent domain for the Mountain Valley Pipeline.
A group of about a dozen landowners had hoped the court would overturn a ruling by a Roanoke-based federal judge, who last year gave Mountain Valley immediate possession of about 300 properties in a decision that cleared the way for tree-cutting to begin.
In a practice known as "take first, pay later," the question of how much the landowners should be compensated was put off until a later date.
"Somewhere along the way, this is something that needs to be resolved," said Karolyn Givens of Giles County, the lead plaintiff in the case.
"It is dead wrong to take somebody's land, damage it…and then walk away and leave the land damaged."
Since Judge Elizabeth Dillon and two of her counterparts in West Virginia gave Mountain Valley the right of eminent domain — which involves the taking of private land for public use — most of the property owners along the pipeline's 303-mile route have reached settlements with the company over how much their land was worth.
Givens has not; a trial in her case is set to begin Oct. 21.
In asking the Supreme Court to take the case, attorney Christopher Johns wrote that Dillon's decision and others like it "let MVP cut down trees and bulldoze land before anyone knows whether the pipeline will ever be built."
Since tree cutting began in February 2018, construction has been hampered by the loss of two key federal permits, which were struck down after legal challenges by environmental groups.
Mountain Valley also faces a lawsuit by Virginia regulators, who claim the company repeatedly failed to curb erosion and sedimentation.
Mountain Valley, which says the pipeline will be completed by the middle of next year, called the appeal an effort to delay the $5 billion project.
"The court's resolution of the merits in this case would have little, if any, practical import to the parties here — if the dispute is not already moot by then," pipeline attorneys wrote in asking the high court to let Dillon's ruling stand.
Givens and the other plaintiffs had faced an uphill battle, as the court hears arguments and renders a decision in only about 1% of the approximately 8,000 appeals filed each year.
Although crews have yet to bury a 42-inch diameter pipe on a strip of Giles County farmland owned by Givens, she says that blasting for the trench has unearthed a cave — and exposed potential problems with contamination being spread through the underground karst formations in the region.
Mountain Valley says in documents filed with the Federal Energy Regulatory Commission that its specialists found no direct evidence of "any pre-existing karst voids or conduits," in the area, where construction was stopped when a permit to cross the nearby Jefferson National Forest was struck down.
Also on Monday, a pipeline protester spent several hours chained to a Mountain Valley helicopter.
The aircraft had been parked overnight in a construction area in Montgomery County, not far from where the pipeline will cross the Roanoke River.
The opponent was positioned just below the helicopter's blades, next to a banner that read "Doom to the Pipeline."
Virginia State Police spent several hours at the scene, finally removing the person about 11:30 a.m. Standing on top of the helicopter, the protester raised both arms in the air, prompting cheers and whistles from about a dozen supporters who watched several hundred yards away.
In a statement released by Appalachians Against Pipelines, the anonymous protester said direct action was needed to stop the damage being caused by pipeline construction, and that is to come with the release of harmful greenhouse gases.
"In times such as these, with the catastrophic effects of global warming accelerating at an alarming pace, it is imperative to act now," the statement read.
It was not clear Monday whether any charges had been filed.
Since work began last year, more than 50 people have been charged with sitting in trees, chaining themselves to equipment or hindering construction in other ways. Monday's incident was the first involving a helicopter.
The helicopter was being used for hydro-seeding, which is part of an effort to control erosion and sedimentation along the right-of-way, Mountain Valley spokeswoman Natalie Cox said.
Monday's incident left the helicopter damaged, Cox said, "the extent of which is still being evaluated."
On Aug. 15, Mountain Valley said it had decided to suspend new construction in much of Virginia, following a lawsuit filed by environmental groups that claimed the work was harming endangered and threatened species.
Both the 4th U.S. Circuit Court of Appeals and FERC have since been asked to order a full stop to construction while the case is pending. Neither had reached a decision by late Monday.