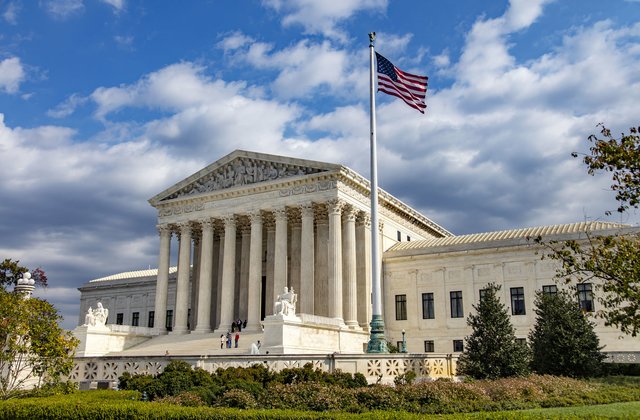 Supreme Court to Hear Pipeline Case
The U.S. Supreme Court agreed to hear a PennEast Pipeline Co. appeal that aims to jump-start a planned natural-gas line by securing key land-use rights from New Jersey.
The proposed 116-mile pipeline would carry as much as 1 billion cubic feet of natural gas per day from northern Pennsylvania to New Jersey. PennEast is a joint venture of five companies including Southern Co. and Enbridge Inc.
The decision to hear the case boosts an industry that has fallen out of regulatory favor with President Joe Biden in the White House. Already Biden has canceled a permit for the Keystone XL oil pipeline and ordered a pause in the sale of new oil and gas leases on federal land.
At issue at the Supreme Court is a provision in the U.S. Natural Gas Act that lets pipeline companies use the federal government's eminent domain power. After the Federal Energy Regulatory Commission approved the pipeline in 2018, PennEast sued to gain access to more than 40 parcels that are either owned or partially controlled by New Jersey.
But a Philadelphia-based federal appeals court said that, while the law gives companies eminent domain powers, it doesn't let them sue states to enforce those rights. The panel pointed to the Constitution's 11th Amendment, which limits the circumstances in which private parties can sue states without their consent.
Unless the appeals court ruling is overturned, the pipeline may have to find a new route through New Jersey or turn to Congress to get the needed authority.
April Arguments
The Supreme Court said it will hear arguments in April, meaning a ruling is likely by late June. The justices acted after then-President Donald Trump's administration urged them to take up the case.
Tony Cox, chairman of PennEast's board of managers, called the court's decision to take the case a "major step forward" toward safe, affordable domestic energy.
"Congress passed the Natural Gas Act specifically to avoid state and local vetoes of interstate projects found by federal regulators to be in the public need and benefit," Cox said in an emailed statement. Cox said the company anticipates putting the first phase of the project into service in 2022 and the second phase into service in 2024.
Opponents of the pipeline urged the court to protect states and their environmental protection efforts from federal overreach.
"We need our highest court to reaffirm to fossil fuel companies that they do not have the ability to trample over the rights of the state to protect its natural resources for the benefit of its communities," said Maya van Rossum, who leads the Delaware Riverkeeper Network, a conservation group.
The case is PennEast v. New Jersey, 19-1039.