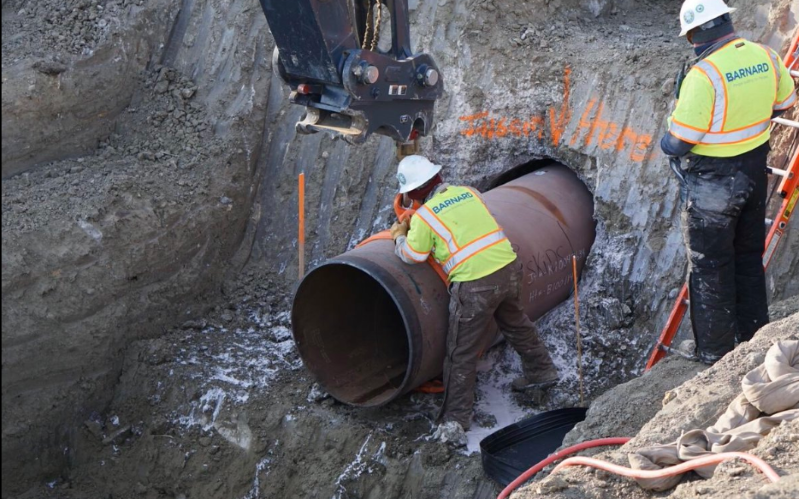 TC Energy 'Repositioning' KXL With Stakes From Indigenous Groups
TC Energy Corp. hopes to build support for its often-challenged, long-delayed Keystone XL pipeline with a $1-billion Indigenous minority stake announced Tuesday, which the company says is the first of many such investments to come across North America in the heavy oil project.
"We are close to bringing in further partnerships in both Canada and the U.S. with other tribal nations," TC Energy executive vice-president and president, liquids pipelines Bevin Wirzba said Tuesday during an investor presentation.
The Calgary-based pipeline giant said it had finalized an agreement with Natural Law Energy, an Indigenous business backed by five First Nations in Alberta and Saskatchewan, to invest up to $1 billion in the Alberta-to-Nebraska oil pipeline project that would connect heavy oilsands to refineries in the Gulf Coast.
"This represents our first investment in Canada's energy infrastructure and we are excited to partner with TC Energy as together, we will ensure that the pipeline is held to the highest levels of environmental and social responsibility," said Alvin Francis, Natural Law president and chief of the Nekaneet First Nation, in a release announcing the deal.
Wirzba said the company has been "repositioning" the US$14.4-billion project in an attempt to win more widespread support in the U.S. after years of delays.
However, observers have their doubts that Indigenous ownership or other strategies the company is employing will win the hearts of U.S. environmental organizations, or Democratic Party politicians including president-elect Joe Biden, which have opposed the project for years.
As it has for over a decade, Keystone XL will face legal and regulatory challenges in the U.S., as Biden has previously indicated he would cancel the 830,000-barrel-per-day pipeline.
Biden has announced a "Build Back Better" plan and campaigned on promises to shift the U.S. energy mix towards more renewable energy, phase out coal-fired power and eliminate subsidies for hydrocarbons.
"We've looked at the 'Build Back Better' plan. The steps we've already taken with Keystone XL, we believe, have positioned it very favourably, particularly as we bring jobs to the economy next year – a key platform for the U.S. government," Wirzba said.
The company has signed agreements with four American labour unions, ensuring the entire project would be built with union labour. TC Energy has also established a training fund for those union workers to retrain for green energy jobs.
Foreign Affairs Minister François-Philippe Champagne said earlier this month that Keystone XL was "top of the agenda" in Canada's engagement with the incoming Biden administration, and that Canada would argue it provides the U.S. with energy security.
TC Energy president and CEO Russ Girling said there are about 3,000 people working on the project and the company plans to recruit 15,000 workers for it in the first quarter of 2021 – a timeline that would coincide with Biden taking office on Jan. 20. U.S. President Donald Trump granted KXL a presidential permit in his first week in office in 2017, after it was rejected by his predecessor Barack Obama.
The company has built the border crossing between Canada and the U.S. for the pipeline. Work is underway on both sides of the border, but much of the work has slowed in the U.S. after a federal judge in Montana ruled last year that the company could not complete work around waterways until the U.S. Army Corps of Engineers considers the impact on endangered species.
"I still think it's going to be extremely difficult to get the Biden administration to support the completion of this project," said Dennis McConaghy, who was an executive responsible for Keystone XL and has since written books about its challenges.
Indigenous ownership would help "at the margins," McConaghy said, as would the union work on the project, but he still believes Biden will use executive orders to try to chalk up climate wins while in office, given that the Democratic Party lacks control of the U.S. Senate to usher in meaningful legislation to combat climate change.
Alberta announced a $1.5 billion investment in KXL earlier this year and is providing a $6 billion loan guarantee for construction next year. Premier Jason Kenney recently described the investment as an insurance policy against any delays on other pipeline projects, in particular the federally owned Trans Mountain pipeline expansion.
Kenney said in a release that the agreement between TC Energy and Natural Law would "help ensure that Keystone XL – and projects like it – continue to be built with the protection of the environment at the forefront of every decision."
Keystone XL will likely to be the last of three active oil export pipelines built out of Canada.
The Trans Mountain pipeline expansion is over 27 per cent complete in the Vancouver region and 19 per cent complete overall, Trans Mountain Corp. said, noting that 6,730 people are working on the Alberta-to-B.C. oil conduit.
The company expects to begin construction in the Fraser Valley, which leads into the Vancouver area, in 2021 or 2022.
Enbridge's Line 3 delays in Minnesota means it will not come online until next year.
In the near-term, Enbridge Inc.'s Line 3 replacement project is likely to be the first new oil pipeline to be built and to ship Canadian oil to U.S. refineries. The Calgary-based midstream company expects construction to take between six and nine months and could be complete next year.
"Line 3 is a shovel-ready, $2.6-billion private investment that will bring 4,200 family-sustaining construction jobs, millions of dollars in local spending and tax revenues at a time when Northern Minnesota needs it the most," Enbridge spokesperson Tracie Kenyon said in email.
The Alberta-to-Wisconsin pipeline is complete in each province and state with the exception of Minnesota, where it still needs Army Corps of Engineers permits, the Minnesota Pollution Control Agency's Construction Stormwater permits and the Minnesota Public Utilities Commission authorization.
Enbridge encountered a new challenge to its Line 5 project in Michigan last week, when Governor Gretchen Wilson notified the company the state was cancelling an easement for the company to cross a key strait in the Great Lakes.
Enbridge and Michigan will now litigate the issue in the state, but the notice provided Enbridge with 180 days notice to stop flowing oil and products like propane through the line.