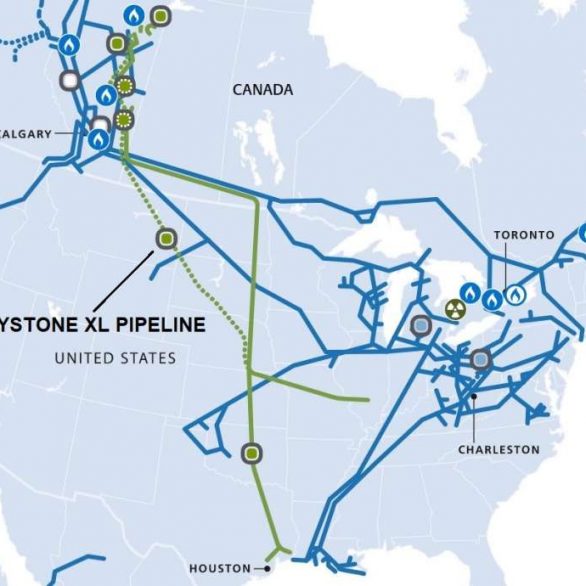 TC Energy To Build Keystone XL Pipeline
Canadian pipeline operator TC Energy is moving forward with plans to build the controversial Keystone XL Pipeline, a project to move heavy crude oil from the tar sands region of Canada to Nebraska where it will then move on to refineries in Illinois and along the Gulf Coast.
After years of legal battles, TC Energy confirmed Tuesday morning that the company plans to invest $8 billion on the crude oil pipeline project. The controversial pipeline project faced opposition and legal challenges from Native American groups, environmentalists and landowners.
"We appreciate the ongoing backing of landowners, customers, Indigenous groups and numerous partners in the U.S. and Canada who helped us secure project support and key regulatory approvals as this important energy infrastructure project is poised to put thousands of people to work, generate substantial economic benefits and strengthen the continent's energy security," TC Energy CEO Russ Girling said.
Once complete, the 1,210-mile pipeline will move 830,000 barrels of heavy crude oil per day from Hardisty, Alberta to Steele City, Nebraska where it will connect to other TC Energy pipelines to to reach U.S. Gulf Coast refiners and other destinations.
TC Energy is making the $8 billion commitment at a time when oil prices are trading at near 20-year lows as a price war between Russia and Saudi Arabia has exacerbated a global supply glut and the coronavirus pandemic has cut global demand.
One of the places hardest hit by record low commodity prices is Canada, which has vast crude oil resources but not enough pipelines to get it to market. The Canadian pipeline operator has pledged to keep construction crews safe from the pandemic. The government of Alberta is investing $1.1 billion in the pipeline project.
"Construction will advance only after every consideration for the health and safety of our people, their families and of those in the surrounding communities has been taken into account," Girling said.
Environmentalists decried TC Energy's decision. Catherine Collentine, associate director of the Sierra Club's Beyond Dirty Fuels campaign, said the project still faces numerous legal challenges environmental and that the environmental group will continue to fight it.
"Over the last decade of pushing their dirty tar sands pipeline, TC Energy has already made it abundantly clear that they don't care about risks to our communities, but this is a shameful new low," Collentine said. "By barrelling forward with construction during a global pandemic, TC Energy is putting already vulnerable communities at even greater risk."