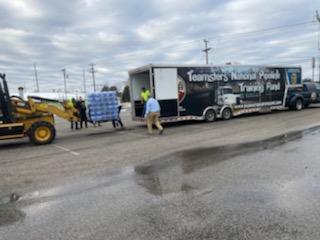 Teamsters Donate Drinking Water To Texas Families
On Friday, members of the Teamsters National Pipeline Labor-Management Cooperation Trust brought hundreds of gallons of drinking water to churches in the Jacksonville, Texas area in order to help the many families in need. Due to the inclement weather in Texas, communities have been without electricity and access to fresh water for over a week.
"We wanted to help the residents of Texas in whatever way was best and our team member Gus Zertuche, a TNPLTF Instructor, and his wife Misty, drove drinking water down to Texas in record time. We hope to provide another shipment, soon," said Bubba Davis, director of the Teamsters Building Material and Construction Trade Division.
SOURCE: