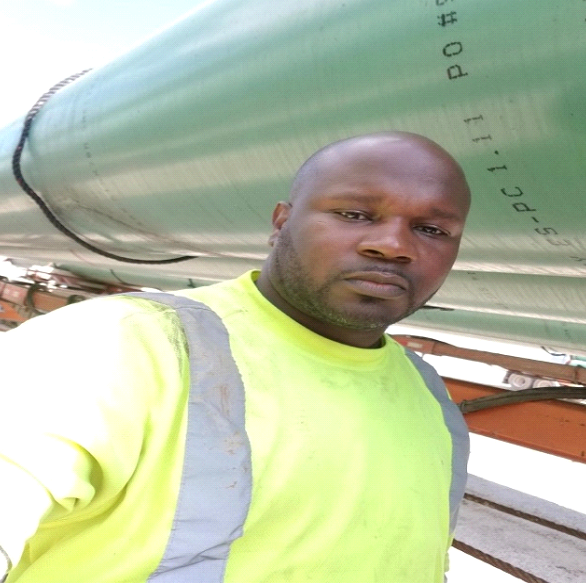 Teamsters Member Ulerick Fields Helps De-escalate Confrontation Between Officer and Man
Here's an uplifting story of a Teamster who changed his entire life with hard work and determination. Ulerick Fields life was not always caring about right from wrong. Mr. Fields had bouts with law enforcement and jail throughout his life. As he yearned to find peace with in, greater things were sure to come. Determined to make life better he made changes. Mr. Fields came to the Teamsters through a on the job training program in Ohio with Pe Ben USA to better himself, provide a better future for his family and he learned how to operate a Stringer Truck. Mr. Fields did a great job & continues to do so. Still to this day he is hired on all projects that he chooses because of the dedicated, hard worker and great person that he has sought to be. Mr. Fields is a great example of hope. He wanted change & went after it.
In early July Mr. Fields traveled from North Houston to South Houston to help his goddaughter that was in need of him emotionally. He was called on by a friend that was in dire straits for her daughter and Mr. Fields went. On his way there he decided to stop at a gas station for a pack of gum. Once at the gas station, Mr. Fields saw utter chaos involving a Police Officer and a man. Mr. Fields was able to assist the officer in need by deescalating the arrest that could have changed for the worse very quickly.
See news story below.
https://abc13.com/houston-arrests-in-caught-on-video-ulerick-fields-facebook/6308038/
After the incident occurred, Mr. Fields continued on to help his Goddaughter. Mr. Fields truly embodies the "Be the change you want to see in the world" by taking the opportunity to turn his life around, and by helping others. Mr. Fields is the type of person we as Teamsters are proud to have amongst us. He is a great reflection of what Brotherhood and Sisterhood means to be a Teamster.