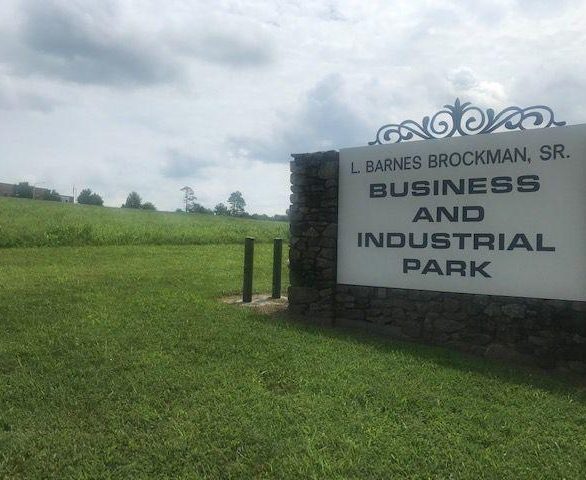 Temporary RV Park for Atlantic Coast Pipeline Workers Planned in Amherst Industrial Site
Town of Amherst officials plan to hold a public hearing in July on a request for a temporary RV park, in an Amherst industrial park, to house workers associated with the Atlantic Coast Pipeline.
Amherst Town Council voted 4-0 Wednesday, with Councilman Kenneth Bunch absent, to send the proposal to a hearing during its July 8 meeting. The temporary park for recreational vehicles would house workers during the life of Richmond-based Dominion Energy's lease for land in the back of the L. Barnes Brockman, Sr. Business and Industrial Park on U.S. 60.
Council voted in August 2019 to lease to Dominion, the company heading the pipeline project, about 45 acres at the end of Brockman Park Drive for a period of two years with possible extensions.
According to the lease approved last summer, Dominion Energy can use the leased property seven days per week, 24 hours per day, throughout the two-year period for purposes that include storage of materials, a pipe yard, temporary offices, a staging area for pipeline workers, a parking area and any other activities or uses "reasonably associated" with the company's activities.
The lease plan is for $300,000 per year over two years, and an extension clause includes another year. The business park area is where workers will meet and get transported to other localities where pipeline construction occurs, town officials have said.
The applicant for the temporary RV park is a private company working in conjunction with Dominion, according to Amherst Town Manager Sara Carter.
"From their perspective, this is a location that makes a lot of sense because the laydown yard and where they'll be having the workers meet in the morning is the site Dominion is leasing at [the Brockman site]," Carter told council of the RV park plan. "So there is a lot of logic to having the workers there as well."
The Brockman park is zoned E-1, or business park district, and from a zoning point of view a temporary RV park fits within the same residential use category as hotels or motor inns, which are allowed in the district, according to Carter.
Council voted 3-1 Wednesday, with Councilwoman Janice Wheaton opposed, to determine a temporary RV park is appropriate in the E-1 district, Class II section, which applies to areas of the park not within 1,000 feet of the U.S. 60 corridor. The measure clears a zoning hurdle to allow the overall request to advance to the July 8 hearing.
The Atlantic Coast Pipeline, a $8 billion project, is slated for a 600-mile route through West Virginia, Virginia and North Carolina, including a roughly 30-mile stretch in Nelson County where opposition has been fierce.
Along with the revenue the town receives, Carter has said the ACP's presence in Amherst brings activity to a business park with plenty of available lots and more traffic into the town that can benefit local restaurants, stores and businesses.
A Dominion spokesman has said the planned contractor yard allows for staging of equipment and materials and gives workers a meeting place before heading out to various sites. Carter has referred to Dominion's presence in the business park as a good opportunity to move that property forward for economic development.
Specifics on how many RVs are permitted and other details were not brought forward at Wednesday's meeting and Carter said more will be known as the lease proposal on the temporary use plan is made public prior the July 8 meeting.
"I don't feel comfortable voting for this until I can have more information," Wheaton said. "This is a big deal and I want to make sure we are doing it correctly."
Mayor Dwayne Tuggle said according to town policy, council's determination on the zoning aspect of allowing a temporary RV park is only for the period pipeline officials are leasing at the site, which Carter said is up to three years. If another group comes in three years down the road with a similar request, council would vote again on that matter, he explained.
Wheaton asked questions such as the size of campers, if family members would be allowed to stay, how many are allowed per unit and if features such as fire pits would be included.
"This is not going to become a permanent community," Tuggle said.
Vehicles can be as large as 45 feet long or as small as a camper on the back of a pickup truck, according to council's discussion.
"We can't dictate how many people can come and go," Tuggle said in response to a question raised about family members. "If a trailer can hold eight people, we are not going to go around and count."
Atlantic Coast Pipeline spokeswoman Ann Navallo recently said the natural gas pipeline is expected to be in service by 2022 and begin construction later this year.
In the project's initial stages, officials projected a completion date in late 2018, but multiple court challenges have changed that timeline over the past several years. Construction currently is stalled as courts have rejected permits and approvals ACP needs from multiple state and local agencies.
SOURCE