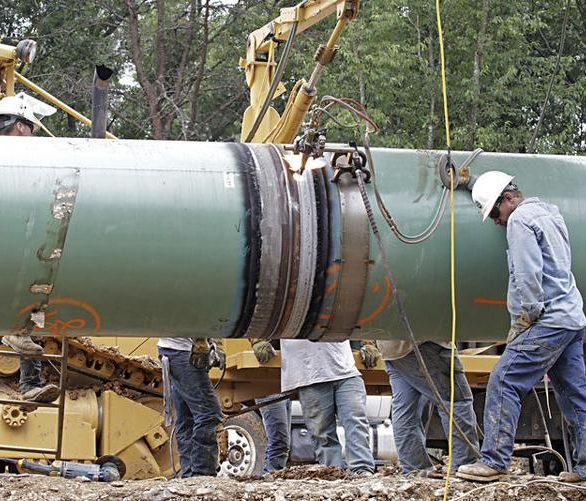 Texas Construction Company No Longer Working On Mountain Valley Pipeline
A Texas corporation that has put down roots in Raleigh County is no longer working on a controversial natural gas pipeline in West Virginia after the pipeline's major stakeholder unexpectedly canceled the Texas company's contract last month.
The Mountain Valley Pipeline is a joint project of EQM Midstream Partners LP, Con Edison Transmissions Inc., NextEra US Gas Assets LLC, WGL Midstream and RGC Midstream.
The Federal Energy Regulatory Commission (FERC) in October halted construction of the 303-mile, interstate pipeline in October, pending the outcome of a series of court challenges launched by environmental groups.
In the last week of November, EQM Midstream Partners LP canceled a work contract for Trinity Energy Services of Argyle, Texas, Trinity spokesman Bob McKibbon verified Monday.
"We've all been kind of in the dark with it, as far as not much detail," McKibbon said Monday. "There's nobody else talking to us about it."
On Tuesday, he reported that he had no new information to share. He referred The Register-Herald to EQT Midstream.
EQM Midstream and Mountain Valley Pipeline representatives did not respond to requests for comment on Monday or Tuesday.
Mountain Valley began work on the pipeline in February 2018, with partners anticipating the project would be completed by the end of 2019, at a cost of $3.7 billion.
In October, MetroNews reported, Mountain Valley announced plans to have the pipeline operational by mid-2020, at a cost of $5.3 to $5.5 billion.
Trinity, which specializes in the construction of oil and gas pipelines, has a site office in Beaver.
It was unclear Monday on whether additional construction projects in the region would keep Trinity in Raleigh County.
The company owns a hangar at Raleigh County Memorial Airport and leases a second one, airport manager Tom Cochran.
He added that the company also purchases plane fuel locally.
Cochran said Monday that he is hopeful Trinity will stay in Raleigh County.
"We appreciate the business that they have offered to us and not only the airport but our community," said Cochran. "This is going to be felt across the county.
"They put a lot of money and effort into our community. They've been right up front, top-notch type people to deal with.
"They're the contractors we need to be doing business in our community," he added. "They're honest. They pay their bills.
"They support our community."
Trinity supported the annual Auto Fair fundraiser for Hospice House of Southern West Virginia at the airport in July, he added.
The pipeline is set to cut across 600 streams and more than 400 wetlands along its proposed path from northwestern West Virginia to southern Virginia.
The West Virginia Department of Environmental Protection (WVDEP) had cited Trinity for water safety violation rules in May 2018, according to a report by The Gazette-Mail.
According to the WVDEP complaint, Trinity was cited for unsatisfactory perimeter control and failure to install devices in a timely manner at four sites (Slate Run Road, Route 219 Crossing, "Mr. Law's field" and War Ridge Road) in Wetzel County.
Receiving streams were the Ohio River, Fishing Creek, North Fork and Mobley Run, according to the WVDEP complaint.
Investors had planned for Mountain Valley to be finished by the fourth quarter of 2019, but work was temporarily ceased in October by Federal Energy Regulatory Commission (FERC), due to federal agencies suspending three key sets of permits that is necessary for the project.
The U.S. Army Corps of Engineers is currently considering whether to re-issue permits that would allow the pipeline to cross more than 1,000 streams in West Virginia and Virginia.
Overseen by FERC, the interstate pipeline cuts through 11 state counties, including  Fayette, Greenbrier, Nicholas, Summers and Monroe counties, and six Virginia counties. Citizens along its route, including environmental groups, have opposed construction.
In October, FERC ordered all construction to stop immediately while legal challenges are being decided by judges.
The pipeline's developers told MetroNews in October that it is 90 percent complete but has work ahead in sensitive areas.
Diana Charletta, president and chief operating officer of EQM Midstream Partners, the operator of MVP, acknowledged schedule delays and cost overruns to MetroNews.
"We have encountered unforeseen development challenges; however, we continue to make progress towards ultimate completion," Charletta stated to Metro News in October.
Mountain Valley is one of two major pipeline projects under construction through West Virginia. The other is the Atlantic Coast Pipeline, which has also experienced significant delays and cost increases, MetroNews reported in October.