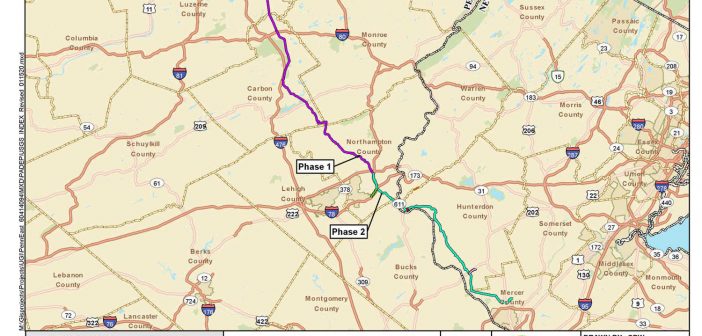 U.S. Supreme Court to Hear PennEast Pipeline Appeal
The U.S. Supreme Court announced Feb. 3 that it would hear the appeal of the PennEast Pipeline Co., which plans to build a 120-mile, 36-in. natural gas pipeline to provide energy to the Northeast United States.
The proposed PennEast Pipeline would originate in in northeastern Pennsylvania and terminate at Transco's pipeline interconnection near Pennington, New Jersey. Approximately one-third of the route is located in New Jersey (click the image above to see the full route).
The Federal Energy Regulatory Commission (FERC) approved the project in January 2018. However, the state of New Jersey opposed the project, and the Philadelphia-based 3rd U.S. Circuit Court of Appeals ruled in 2019 that PennEast could not use federal eminent domain to seize land needed for the construction of the pipeline.
Tony Cox, chair of the board of managers of PennEast Pipeline, applauded the Supreme Court decision to grant a petition for certiorari in PennEast Pipeline Company LLC v. New Jersey.
"Today's decision by the U.S. Supreme Court granting the petition for certiorari in the PennEast Pipeline case is a major step forward in upholding Congress' clear charge to the Federal Energy Regulatory Commission to ensure the availability of affordable domestic energy, delivered safely and reliably via natural gas infrastructure," Cox said. "Federally approved pipeline projects undergo an extensive review process, and support jobs, reliable energy systems, a cleaner environment and lower energy bills, which together, benefit our region's families and businesses."
RELATED: PennEast Pipeline Approved by Federal Energy Regulatory Commission.
Furthermore, Cox cited the Natural Gas Act, stating that Congress passed the law to avoid state and local vetoes of interstate projects found by federal regulators to be in the public need and benefit.
"The misguided Third Circuit ruling in fall 2019 turned nearly 80 years of federal government interpretation and industry practice on their heads," Cox said. "In its written response before the U.S. Supreme Court last spring, the State of New Jersey even agreed that the U.S. Constitution allows the federal government to condemn state property and took issue only with whether it can delegate that authority to a private party."
With the regulatory delays impacting the project, Cox said that PennEast anticipates placing the first phase of the project into service in 2022, while the second phase are expected to be in service in 2024.
"We continue to work with all regulators to move the project forward, and meet the well-established needs of our customers," Cox said.
The Interstate Natural Gas Association of America (INGAA) was one of 18 business, labor and consumer advocacy organizations that filed amicus briefs in support of the PennEast project. INGAA president and CEO Amy Andryszak expressed her support for the Supreme Court ruling.
"The Court's decision to hear this case is a positive step," Andryszak said. "As INGAA made clear in our amicus brief, if this case is left to stand it would upend 80 years of precedent and overturn congressional intent. We believe the arguments put forward by PennEast are sound and will prevail following oral arguments later this year."