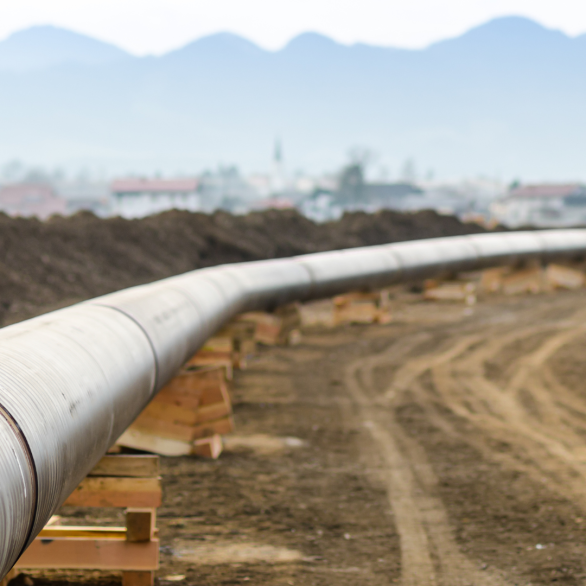 Wisconsin Jobs and Energy Coalition: Line 5 relocation project supporters join Safest Way Tour in Milwaukee
A group of local citizens, small businesses, labor leaders, and tribal members gathered at the Steamfitters Local 601 Training Center in Milwaukee on Thursday to show their support for the $450 million proposed Line 5 relocation project in Ashland, Bayfield, and Iron Counties. Participants in the event organized by the Wisconsin Jobs and Energy Coalition also took the opportunity to sign a pipeline similar to the one to be used on the proposed project.
The relocation project, which is estimated to create over 700 Wisconsin construction jobs, is currently being reviewed by the Wisconsin Department of Natural Resources. According to public comments recently released by the DNR, Wisconsinites approve of the project by greater than a 2-to-1 margin. Additionally, a public comment submitted by major propane supplier Plains Midstream sent a dire warning for the entire Midwest that a rejection of the Line 5 relocation project could send Wisconsin and other states into a State of Emergency due to propane shortages as Line 5 is a key supplier of the natural gas liquids that go into producing propane.
Supporters at Thursday's event heard from small businesses, labor leaders, and tribal members on the economic need for the relocation project and why pipelines are the safest way to transport the energy our state, region, and nation need to power our economy and ensure our quality of life.
"It's our men and women who will construct the Line 5 relocation project and benefit from the good-paying, family-sustaining jobs that come with the project," said Steamfitters Local 601 Business Agent Brian Toutant. "Our members spend years training for projects like this, and we're proud to put our skills to use in constructing this pipeline in the safest and most environmentally friendly manner possible."
"Line 5 is a vital supplier of the natural gas liquids that goes into creating the propane over 280,000 Wisconsin households depend on to heat their homes," said Cheryl Lytle, Executive Director of the Wisconsin Propane Gas Association. "Our state's farmers and rural residents and businesses depend on propane and pipelines like Line 5 to survive. We hope the Wisconsin DNR will quickly approve the relocation project and give Wisconsinites some peace of mind going into our cold Wisconsin winter."
Ron Spoerl, a Little River Band of Ottawa Indians tribal member and owner of Hawk Industries, stated, "I've seen firsthand Enbridge's transparency when working with our tribal community and am thankful that Enbridge has vowed to award over 10% of the total project, more than $45 million, to hiring Native businesses and training tribal members. As we all work towards more renewable energy, we must not forget the current need for the affordable energy provided by pipelines like Line 5."
Milwaukee is the ninth stop of this summer's inaugural Safest Way Tour. Other stops in the tour included Superior, Mellen, Hurley, Rhinelander, Madison, Mosinee, Hayward, and Eau Claire. The tour has a second stop on Thursday in Kaukauna.
Banners flanked the 34-foot pipe that highlighted these key pipeline facts:
Pipelines have a 99.99% safety record
Shutting pipelines like Line 5 would dramatically increase gas and diesel prices in the region
Line 5 is a major supplier of Midwest propane used to heat homes, cook food, and dry crops
Pipeline projects provide good-paying jobs and boost local economies
In addition to being the safest way to carry Wisconsin's critical energy supply, an independent economic impact study estimated the Line 5 relocation project would add $135 million to Wisconsin's economic output, increase state tax revenues by millions, and support more than 1,000 jobs in the State of Wisconsin. Enbridge has signed a letter of intent with Wisconsin-based Michels Pipeline, Inc. as the mainline contractor for the project, and a Project Labor Agreement was recently signed with the Laborers International Union of North America, International Union of Operating Engineers, International Brotherhood of Teamsters, and United Association of Plumbers and Pipefitters.