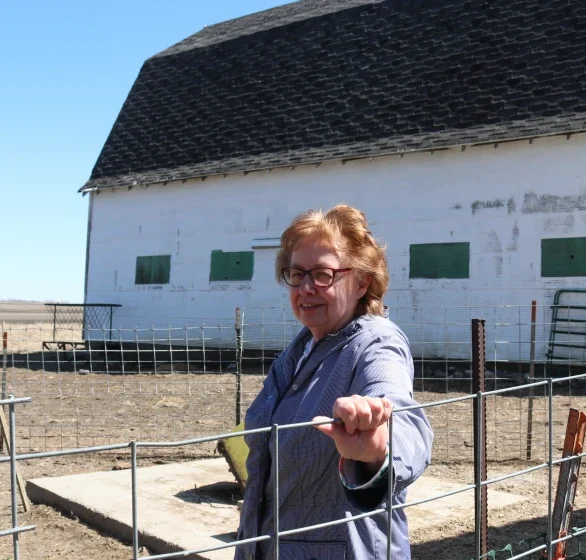 Without eminent domain, Summit pipeline route in Minnesota looks different
Unlike other states along the Summit Carbon Solutions pipeline route, Minnesota does not allow the use of eminent domain to help secure the right-of-way for the carbon capture project.
One effect of that is a more jagged route, making 90-degree turns and following section lines rather than angling across fields.
"So we work with all of the landowners, we have since day one," said John Satterfield, director of regulatory affairs for Summit. "We've made nice offers in our opinion, for right-of-way agreements across people's property to site our pipe in Minnesota.
"We've worked with these landowners here without this eminent domain thing that keeps on being brought up. It's a very emotional topic and discussion," Satterfield said.
"Some things that are a result of that though is that we have lots of 90-degree angles. … So there's more pipe going to be laid than what would be necessary if we were to go in a straight line, and so, more digging."
Satterfield spoke with Agweek on Tuesday, May, 2, just before the first Minnesota Public Utilities Commission meeting in Breckenridge on a small chunk of the massive project to capture carbon emissions from ethanol plants and store it underground in North Dakota.
A 4-inch carbon capture pipeline would run from the Green Plains ethanol plant at Fergus Falls, Minnesota, west through Otter Tail and Wilkin counties before crossing into North Dakota as part of a 2,000-mile system of pipelines. The Summit Carbon Solutions project would link 32 ethanol plants spread over five states to an underground storage site in western North Dakota.
Summit's selling points include benefits to the environment by reducing greenhouse gas emissions; benefits to the ethanol industry and corn growers; and providing jobs.
The project has met some resistance from landowners who are concerned about safety, damage to farmland, and the impact on property values. Some environmental groups also question whether the impact of the project outweighs the potential environmental benefits.
Without eminent domain, where a court can force a landowner to provide a property easement for a project with a public benefit, landowners can tell Summit, "no," and force the company to look for another route.
That's what Sharon Leinen did when Summit contacted her family about her farm property about 3 miles south of Breckenridge.
"They told me about the pipeline going in and they wanted to do some surveying on the land," Leinen said in an interview before Tuesday's meeting. "And I wasn't for it right from the beginning."
She declined their easement offer, where Summit offers to compensate landowners for the right to cross a piece of land.
"So I guess they know that I'm not going to sign an easement, so they're going to a neighboring piece of land," Leinen said.
The pipeline will run up to the edge of her property, but then have to cross a road to a neighbor's field to the south.
That doesn't mean Leinen's worries are over, however. She is still concerned about a possible rupture of the hazardous liquid pipeline that's less than a mile away. She has a daughter who is considering moving back to the farmstead and shares her concerns.
"I've seen videos of one of these things when they rupture, and it affects a four-mile radius area. So I would be in that area, so I'm very concerned," Leinen said.
In a public meeting in Fergus Falls on May 3 in the afternoon, Peg Furshong, who lives near a different section of the pipeline route in Renville County, advocated for a study of what a rupture of a pipeline crossing beneath a waterway would look like.
"Modeling for dispersion in moving waterways is really important because when CO2 mixes with water, it creates carbonic acid and it's highly corrosive and it kills everything in its path," she said. "And so I think it's really important that we make sure that we have a studies commission for that because Minnesota's natural heritage is our water."
Summit has touted the safety record of pipelines; however, there was a liquid carbon dioxide pipeline rupture in Mississippi in 2020 that sent more than 40 people to the hospital.
Liquid carbon dioxide pipelines have to be built to federal standards. However, the agency that sets those standards, the Pipeline and Hazardous Materials Safety Administration, is in the process of updating the regulations.
The public asked questions for about an hour at the Breckenridge meeting on topics such as boring under roads, shut-off valves near rivers, and the depth of the pipe.
Christina Brusven, an attorney for a Minneapolis law firm that is working with Summit, replied to concerns that the pipeline could be sold to another business.
"If the commission does issue a route permit for the project, the commission has a process where if Summit Carbon Solutions were to want to transfer the project to someone else, the commission actually has a process that you'd have to go through with approvals, where it has to come before the commission with a comment period and whoever was taking the project, or proposing to step into the project, would have to get approval from the commission that would meet all the requirements of the permit," she said.
In a development in South Dakota, Summit has begun informing landowners that it will ask a court to grant eminent domain to force landowners to provide right-of-way.
In a written statement, Satterfield said:
"After filing our permit applications, holding public and stakeholder meetings, negotiating in good faith, and partnering with thousands of landowners, conducting field survey work, and more, the letter sent to some South Dakota landowners concerning eminent domain represents the next step in this process. We look forward to continuing to work with regulators, policymakers, landowners, and more to advance this critical investment in our economy."
According to a slide in the Minnesota PUC's presentation:
"Summit Carbon Solutions does not possess the power of eminent domain. Therefore — while you might suggest an alternative, the EIS might study that alternative, and the PUC might consider that alternative — the pipeline could not be constructed along that alternative without landowner consent."